Event Information
Location
Batchawana Bay Provincial Park
10699 Ontario 17
Batchawana Bay, ON P0S 1A0
Canada
Join AUSU for a beach day at Batchawana beach, to enjoy those final summer sunshine rays and fun at the beach
About this event
With classes having just started, who can help but feel like they miss those hazy, lazy days of summer? Lets bring it back just for one afternoon, Join AUSU for a beach day at Batchewana beach, to enjoy those final summer sunshine rays and fun at the beach. Be sure to Register before spots are filled up! Transportation will be provided.
Please Note the Assumption of Risk Related to this event:
I am aware that participating in "AUSU BEACH DAY" has many inherent risks including but not limited to: possible injury, risks related to water, potential contact with wildlife, unsupervised swimming, etc.
I freely accept and fully assume all such risks, dangers and hazards and possibility of personal injury, death, property damage or loss, resulting there from.
In collecting my ticket I am acknowledging that I have read and understood the above statement, I am aware of the risks and I am assuming all liability.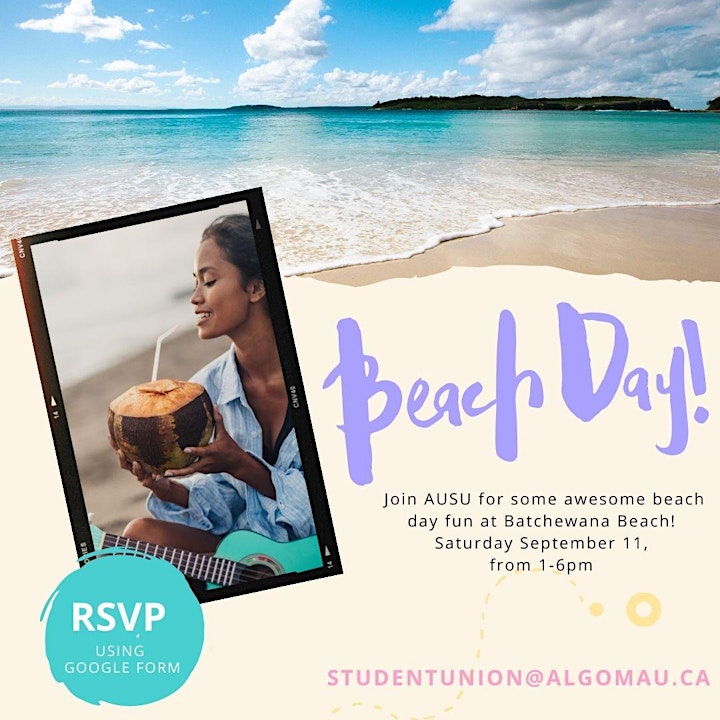 Date and time
Location
Batchawana Bay Provincial Park
10699 Ontario 17
Batchawana Bay, ON P0S 1A0
Canada