Event Information
Refund policy
Refunds up to 7 days before event
Eventbrite's fee is nonrefundable.
Elizabeth Hay, highly acclaimed author will be interviewed by Alan Neal, CBC. Funds raised go to the CFUW/Kanata Scholarship Trust
About this event
Enjoy a warm and spirited dialogue with two engaging Canadians who share a passion for excellence in their professions.
Pull up a chair and settle-in to enjoy this on-line stimulating exchange of ideas between our two special guests: Alan Neal, award-winning journalist and host of CBC Ottawa's All in a Day, and Elizabeth Hay, winner of the prestigious Giller Prize and best-selling author.
Their discussion will begin with Elizabeth Hay's memoir All Things Consoled about the emotionally charged events surrounding the last few years of her parents' lives; but you can expect much more. During recent decades, Alan's and Elizabeth's career paths have crossed periodically, so they share insights and experiences that bring a personal flavour to this online rendezvous. Both are accomplished writers and speakers, and you are invited to share this evening with them.
There will be opportunities for questions from the audience.
Bios
Elizabeth Hay - Author of the #1 nationally bestselling novel Alone in the Classroom, the Scotiabank Giller Prize-winning novel Late Nights On Air, as well as four other highly acclaimed works of fiction.
All Things Consoled, her first non-fiction book, was shortlisted for the RBC Taylor Prize and was the winner of the 2018 Hilary Weston Writers' Trust Prize for non-fiction. Formerly a radio broadcaster, Elizabeth worked a number of years in Mexico and New York City before returning to Canada. She now lives in Ottawa.
Alan Neal - Host of CBC Radio's All In A Day, the top-rated afternoon radio show in Ottawa. You can hear him weekdays from 3-6 on 91.5 FM in Ottawa or on cbc.ca/ottawa . Known for highly researched interviews with musicians, artists, politicians, community changers and thinkers...not to mention all the scientists on the popular Element of Surprise series... Alan is the proud owner of the "You've Done Your Research" coffee mug that CBC designed for him.
Sponsors
We are grateful for the generous support of our Event Sponsors.
Gold Sponsor:
The Joan Smith Real Estate Family, 613-762-1226
Silver Sponsors:
Alan Hubley, City Councillor, Kanata South, 613-580-2752
Eli El-Chantiry, Ottawa Councillor, West Carleton-March, 613-580-2475
Matt Moriarty, CFP, Senior Financial Consultant , IG Wealth Management, 613-866-2750
Sylvie Bigaouette, La Maison Staging & Design 613-913-4524
Perfect Books - Perfect Gift Idea - Ask about signed copies of Elizabeth Hay's books in time for Christmas , 613-231-6468
Red Oak Retirement Residence, 3501 Campeau Drive, Kanata. 613-592-6426
William's Court Apartments for Lease, 1203 Maritime Way, Kanata. 833-292-2798
Dr. Merrilee Fullerton, MPP Kanata-Carleton, 613-599-3000
Cathy Curry, City Councillor, Kanata North, 613-580-2474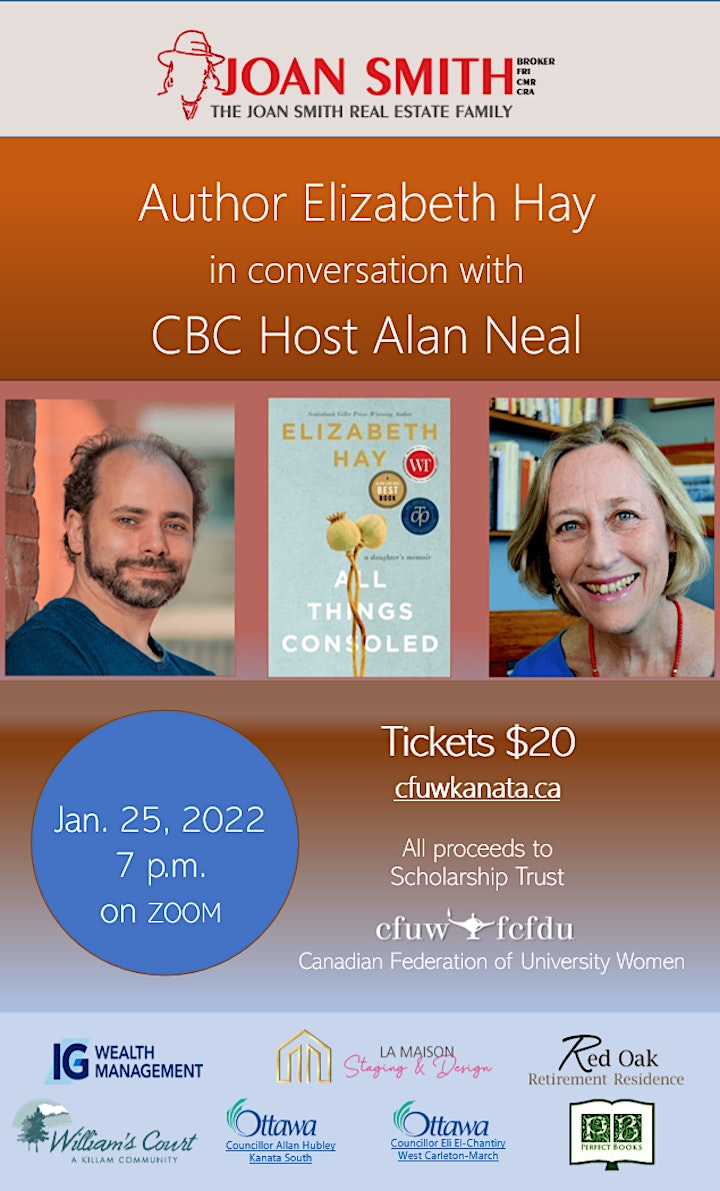 Charity Info
The CFUW/Kanata Scholarship Trust is a registered charity which awards scholarships of $1,000 each to graduates of local high schools who will be attending a Canadian university or a provincially-funded college.
In celebration of the 100th anniversary of CFUW across Canada, 1919-2019, special $1,000 scholarships were also awarded to each of five indigenous post-secondary students.
Over the past 14 years, the Trust has awarded over $110,000 in scholarships, bursaries, and book prizes to graduating students pursuing university and college education.
Funds raised from ticket sales will go toward the CFUW/Kanata Scholarship Trust. If you would like to make an separate donation to support the scholarships, please click on link CFUW Kanata Scholarship Trust Donation Form. After completing the details, mail it to the address provided on the form. A charitable tax receipt will be mailed to you for any donation of $20 or more.
We thank you for your support!
Date and time
Location
Refund policy
Refunds up to 7 days before event
Eventbrite's fee is nonrefundable.