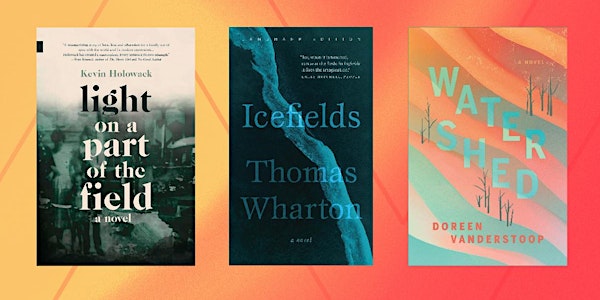 Author Reading: Kevin Holowack, Thomas Wharton, and Doreen Vanderstoop
An evening of readings and book signings with authors from NeWest Press and FreeHand Books.
When and where
Location
Shelf Life Books 1302 4 Street Southwest Calgary, AB T2R 0X8 Canada
About this event
NeWest Press and FreeHand Books invite you to the celebration of Kevin Holowack's The Light on a Part of the Field, Thomas Wharton's Icefields: Landmark Edition, and Doreen Vanderstoop's Watershed. Join us at Shelf Life Books for light refreshments, book chats, and a Q&A.
This event will take place on August 16th at 7:00 pm. It is free and open to all. Please register to attend.
*IMPORTANT* IN-STORE EVENT GUIDELINES
Though wearing masks is not mandatory in our store (it is, however, encouraged!), we will require attendees to wear masks when seated in the event area. This means that any refreshments should not be consumed while seated. If you are showing any symptoms, please join us another time.
ABOUT THE BOOKS
Light on a Part of the Field
In his evocative debut novel, Light on a Part of the Field, Kevin Holowack introduces us to a family grappling with artistic ambition, mental illness, and rifts that may not be possible to mend. Set in BC and Alberta in the 1960s and 1970s, this is a novel of finely observed vignettes offering a refracted look at art and family in the modern West.
A young artist, Ruth, and her obsessive husband, an aspiring poet, are struck by lightning, an experience that throws their lives into a universe of intense beauty and angst. Years later, Ruth lives on a farm her husband bought before his mysterious disappearance, and she creates idyllic but naïve paintings to cope with her confusion and loss. Then, without warning, her eldest daughter Gayle is love-struck by a travelling stranger and runs off to Edmonton where she too must contend with poverty, sickness, and her father's upsetting legacy. Meanwhile, farm-bound Ruth becomes more frantic in her work and begins longing for human contact as her house and animals disintegrate around her.

As Gayle and Ruth seek new ways of connecting in order to remedy their unsettling family legacy, they begin a complicated process of renewal and must decide whether they can reconcile despite all the pain they have caused one another.
Icefields
In 1898, Doctor Edward Byrne slips on the ice of the Arcturus Glacier in the Canadian Rockies and slides into a crevasse, wedged upside down nearly sixty feet below the surface. As he fights losing consciousness, a stray beam of sunlight illuminates the ice in front of him and Byrne sees something in the blue-green radiance that will forever link him to the ancient glacier. In this moment, his life's purpose becomes uncovering the mystery of the icefield that almost was his tomb. Along the way, he encounters similarly fixated individuals, each immersed in their own quest: the healer and storyteller Sara; the bohemian travel writer Freya Becker; the entrepreneur Trask; the poet Hal Rowan; and Elspeth, greenhouse keeper and Byrne's lover.
First published in 1995, Thomas Wharton's Icefields is an astonishing historical novel set in a mesmerizing literary landscape, one that is constantly being altered by the surging and retreating glacier and unpredictable weather. Here—where characters are pulled into deep chasms of ice as well as the stories and histories they tell one another—is a vivid, daring, and crisply written book that reveals the human spirit, loss, myth, and elusive truths.
This updated Landmark Edition includes an author interview with Smaro Kamboureli and an Afterword by award-winning writer Suzette Mayr.
Watershed
It is 2058, and the glaciers are gone. A catastrophic drought has hit the prairies. Willa Van Bruggen is desperately trying to keep her family goat farm afloat, hoping against hope that the new water pipeline arrives before the bill collectors do.
Willa's son, Daniel, goes to work for the pipeline corporation instead of returning to help the family business. When Daniel reveals long-concealed secrets about his grandfather's death, Willa's world truly shatters. She's losing everything she values most: her farm, her son, her understanding of the past — and even her grip on reality itself. Vividly illustrating the human cost of climate change, Watershed is a page-turner of a novel about forgiveness, adaptation, and family bonds.
ABOUT THE AUTHORS
Kevin Holowack is a writer from Edmonton who has his M.A. in English from the University of Alberta. He has lived in various places across Canada and Europe. His work has been published in Glass Buffalo and Lemon Hound. Kevin's debut novel, Light on a Part of the Field, is a Nunatak First Fiction Series book.
Thomas Wharton was born in Grande Prairie, Alberta, an agriculture and oil city located near the BC border. His father, a utilities manager, was transferred to Jasper when Wharton was a teen. The years Wharton spent exploring the mountains and glaciers around Jasper have had a lasting impact on his literary output; references to the Rocky Mountains weave in and out of the books he has written, most notably Icefields (1995) and The Logogryph. A life-long love of maps, history, art, and poetry equally informs his work. A Landmark Edition of Icefields was published by NeWest Press in fall 2021.
Thomas Wharton lives in Edmonton with his wife and three children. An assistant professor of English at the University of Alberta, his latest novel, The Book of Rain, will be published by Random House Canada in 2023.
For more information, visit Thomas Wharton's website: www.thomaswharton.ca.
Doreen Vanderstoop is a Calgary-based writer, storyteller and musician. Her short fiction has been published by Loft on Eighth and Prairie Fire and has appeared online at Montreal Serai, Prairie Journal, Epiphany Magazine and others. As a storyteller/musician, she intersperses songs among tales of all genres, including her own original stories. Doreen performs for audiences of all ages at schools, libraries, festivals, conferences and more. She leads workshops to ignite in others a passion for the power of story — oral and written. Watershed is Doreen's debut novel.