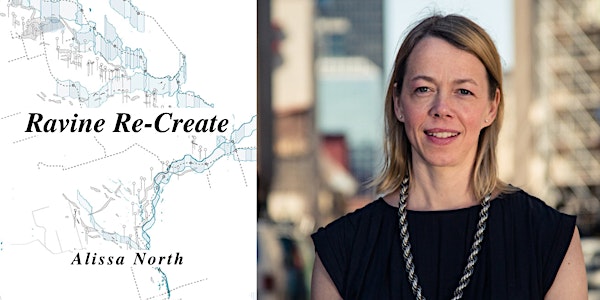 Author Talk | Imaginative Design Ideas for Toronto's Ravines
Alissa North will present Master of Landscape Architecture student work reimagining Toronto's ravines in new and novel ways.
When and where
Location
Toronto Botanical Garden 777 Lawrence Ave E Toronto, ON M3C 1P2 Canada
About this event
Associate Professor Alissa North, will present Master of Landscape Architecture student work concerning Toronto's Ravines, which were created in various studios at the University of Toronto's Daniels Faculty. With the overriding idea that rivers are dynamic systems, studio participants imagined and represented the pressing issues within the ravine in new and novel ways. The students figured creative methods for mutual and optimal productivity between the ravines and the city toward systems of dynamic ecological integrity. The work is meant to inspire how we can think imaginatively about our relationships with Toronto's Ravines.
Alissa's book, Ravine Re-Create: Design Ideas for Toronto's Ravines, will be available for sale following the talk.
Wednesday, November 16, 7 p.m.
Public $5, Free for members and volunteers (plus applicable taxes and fees)
About Alissa North
Alissa North is an Associate Professor of Landscape Architecture at the University of Toronto, where she has served as Landscape Architecture Program Director. She graduated with Honours from the Bachelor of Landscape Architecture Program at the University of Toronto, and received the Master in Landscape Architecture degree with Distinction from Harvard's Graduate School of Design, where she was awarded the Jacob Weidenman Prize for outstanding design ability. North is a Co-Founding Director of North Design Office, a landscape architecture firm established in Toronto in 2005. As a practicing professor, her primary focus entails design research, for which she was awarded by the Ontario Association of Landscape Architects in 2014. Professor North has edited or co-edited a number of publications on process-based landscapes, with focus on the Canadian context, notably including Processing Downsview Park (JoLA, 2012), Operative Landscapes: Building Communities Through Public Space (Birkhäuser, 2013), and a forthcoming book, Innate Terrain: Canadian Landscape Architecture, to be published by the University of Toronto Press.
Registration Deadline: Tuesday, November 15 at 12 PM
Safe Program Access
To ensure the safety of our participants and instructors, all staff, volunteers, and participants are welcome to wear masks indoors and maintain physical distancing.
To learn more about what we're doing to make your next visit safe, enriching, and uplifting, please review our list of Frequently Asked Questions
This is an in-person, indoor, Adult Education program at the Toronto Botanical Garden.
We appreciate your support and cooperation.