Autism Ontario - Family Escape Room - "Room #2 "ALICE" - Guelph / Autisme Ontario - Défi évasion pour la famille - "ALICE" Guelph

Sunday, 27 May 2018 from 4:00 PM to 5:30 PM
Event Details
Registration open April 27, 2018 - 1pm

Children with ASD and their siblings (all ages 7-18 years old) and their parents are invited to the ExitUs Escape Room in Guelph.
Join other Autism Ontario families in one of three escape rooms.   Registration on this page is for Room #2 - Alice.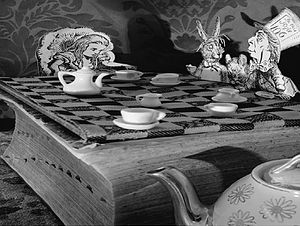 Room #2 - Alice



Difficulty: ★★☆☆☆
Alice is based on what is considered to be a traditional escape room. 


Basically, linear - "one thing may lead to another".  As you navigate your way through the room, each clue you solve, code you break and/or lock you open, will lead you to the next.

You will have to work as a team, to systematically escape the Alice room.
What Is An Escape Room?
An escape room is a unique and fun adventure based off the classic "escape the room" online games now popular in many countries around the world. Players are locked in a simple room with various objects and have approx. 60 minutes to search for clues and solve puzzles in order to escape.
Are The Rooms Scary Or Claustrophobic?
The rooms are not designed to make you feel scared or uneasy. If you feel uncomfortable at any time, you can get out.
What Should I Wear During My Escape?
Normal, everday clothing is acceptable. You don't need special athletic clothing or footwear to participate as there is really no physical aspect to the game.
 Where Should I Park?
There are designated parking spots on site and plenty of 2 hr. free street parking on Fountain St.
 
We will have exclusive use of the rooms.  Please join us.
There are 3  themed rooms to chose from - each room has its own registration page.  Here are the other rooms links:

 Notes:
This event is open to children with ASD, ages 7-18, siblings, ages 7-18 and parents only. 

Spaces are limited.  Pre-registration is required.
Supervision of children/youth at this Social Learning Opportunity is the sole responsibility of parents/guardians and caregivers; childcare will not be provided.  Caregivers must remain present.
Spaces are limited.
 Due to allergies and sensitivities, please refrain from wearing perfume, cologne, aftershave, or scented products such as hairspray or lotion.
It is recommended that you (the participant) consult with your physician prior to the start of any physical activity.  By registering for or participating in an Autism Ontario program or event, the participant agrees that the participant is and will be voluntarily participating in these activities and the participant assumes all risks of injury or death, which might result from these activities.
Refunds will only be given for cancellations on or before 5pm on May 20, 2018.
*******
Les enfants qui ont un TSA, leurs frères et sœurs (âgés de 7 à 18 ans) ainsi que leurs parents sont invités à participer au jeu d'évasion ExitUs, à la « Escape Room », de Guelph.
Joignez-vous à d'autres familles d'Autisme Ontario dans l'une des trois « salles d'évasion. » 
Qu'est-ce qu'un défi évasion?
Un défi évasion est une aventure unique et amusante, inspirée des jeux en ligne classiques « escape the room », maintenant populaires dans plusieurs pays. Les joueurs sont enfermés dans une pièce où se trouvent divers objets et disposent d'environ 60 minutes pour chercher des indices et résoudre des mystères afin de pouvoir s'évader.
Est-ce que les salles génèrent de la peur et un sentiment de claustrophobie?
Les salles ne sont pas conçues pour vous faire peur ou vous inquiéter. Si vous ne vous sentez pas à l'aise, vous pouvez en tout temps sortir de la salle.
Quel genre de vêtements dois-je porter pour mon évasion?
Des vêtements de tous les jours. Vous n'avez pas besoin de vêtements ou de chaussures de sport pour participer, car le jeu n'exige aucun effort physique.
Où dois-je stationner?
Il y a des places de stationnement réservées sur le site et plein d'endroits où vous pouvez laisser votre auto pendant 2 heures. Stationnement gratuit sur la rue Fountain.
Les salles sont à l'usage exclusif de notre groupe. Joignez-vous à nous.
Choisissez l'un des trois défis évasion
(Lors de votre inscription à cette activité, indiquez votre choix parmi ceux présentés à la page suivante.)
1. Évasion de la salle Framed
Difficulté : ★★★☆☆
Cette salle est légèrement différente d'une salle d'évasion traditionnelle. Vous pourrez y tester votre capacité de « penser différemment ». Dans cette salle, « une chose ne mène pas toujours à une autre ».  
Les renseignements réunis par votre équipe en parcourant la salle prendront tout leur sens à la fin du jeu. Pour vous évader de la salle Framed, vous devrez travailler en équipe et rassembler tous les indices.
2. Évasion de la salle Alice
Difficulté : ★★☆☆☆
La salle Alice a toutes les caractéristiques d'une salle d'évasion traditionnelle. 
Sa conception est fondamentalement linéaire - « une chose peut mener à une autre ». En vous promenant dans la salle pour tenter d'en sortir, chaque indice résolu, chaque code déchiffré et chaque cadenas ouvert vous conduira à l'étape suivante.
Pour vous évader de la salle Alice, vous devrez systématiquement travailler en équipe.
3. Évasion de la salle Basement
Difficulté : ★★★★☆
La salle Basement est conçue pour que les participants y vivent une expérience un peu plus pratique. Tout en conservant les paramètres habituels d'un défi évasion, nous avons ajouté une dimension de dextérité manuelle.
En plus de devoir utiliser vos compétences de logique, de résolution de problèmes et parfois votre créativité, vous devrez relever le défi de travailler avec vos mains. Et peut-être même avec vos mains et les yeux d'une autre personne.
Vous êtes intrigué? Réservez votre place dans la salle Basement.
Cette activité s'adresse exclusivement aux enfants autistes de 7 à 18 ans, à leurs frères et sœurs de cette même tranche d'âge, et à leurs parents.

Nombre de places limité. Préinscription obligatoire.
Seules les réservations annulées avant 17 h, le 20 mai 2018, seront remboursées.
Save This Event
When & Where

ExitUs Escape Rooms
120 Fountain St., E.
Suite #118
Guelph, Ontario
Canada

Sunday, 27 May 2018 from 4:00 PM to 5:30 PM
Add to my calendar
Organizer

Autism Ontario's Central West Region includes:
Halton (including Burlington, Georgetown, Milton, Oakville and surrounding areas)

Peel (including Brampton, Mississauga, Orangeville and surrounding areas)


Waterloo (including Cambridge, Kitchener, Waterloo and surrounding areas)

Wellington (including Guelph and surrounding areas)
General FAQ
1.) Do I need to print out ticket or email confirmations to attend this event?
For most of our events there is no need to print anything, unless the event specifies otherwise.  When you arrive at the event, you will have to check in at the registration desk.  You will be asked for your name and how many people are attending with you.  That's all.


2.) Do I need to bring proof of diagnosis?
No, not needed.  Again, just check in at the registration desk and enjoy the event.


3.) Is there a cost to attend this event?
Most of our events are free of charge because the cost is covered by Autism Ontario's Potential Programme, in partnership with Ontario's Ministry of Children & Youth Services and the local Autism Ontario Chapter.  If there is a cost, you will see it on the registration page when you select how many ticket you want.


4.) Do I need to be a member of Autism Ontario to register and participate?
No.  While membership does provide other great opportunities, events provided through Autism Ontario's Potential Programme are open to all families of children with ASD, under the age of 18, who reside in Ontario.
Jennifer Dent
Autism Ontario
Community Events Supervisor
1179 King Street West, Ste 4
Toronto ON M6K 3C5
(226) 748-3372
jennifer@autismontario.com
Autism Ontario - Family Escape Room - "Room #2 "ALICE" - Guelph / Autisme Ontario - Défi évasion pour la famille - "ALICE" Guelph