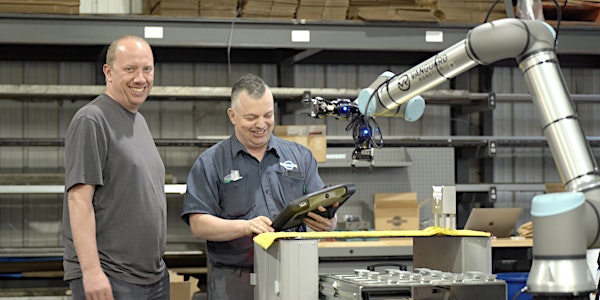 Automation Talks by Robotiq - Automating your CNC Machine the simple way
Join us for the second Robotiq Automation Talk - Deploy easy automation for your machine tending applications
About this event
Are you looking to take down the "Now hiring" sign once and for all?
You aim to stop operating CNC machines manually, but getting robots up and running seems complex to you?
Robots should simplify your life, not make it more complicated.
Working with manufacturers globally, we understand the challenges of maintaining quality, delivery time, and cost amidst the labor shortage.
👉 Join us for the second Automation Talk by Robotiq, Automating CNC Machine Operations the simple way. Here is what you can expect:
10 minutes - What to consider in automating CNC machine operations
10 minutes - How to deploy your machine tending automation plan
10 minutes - Q & A Session
Events hosted in German & English simultaneously
🙌 Register now, and invite a colleague!
Ready to solve your automation challenges? Join us on August 17th! See you there.
Your Robotiq Team 🦾
Next Automation Talks :
🪛 September 7th - Screwdriving : Say goodbye to product recalls with a cobot screwdriving solution that does the work for you.
Here is an overview of the CNC Machine in action: