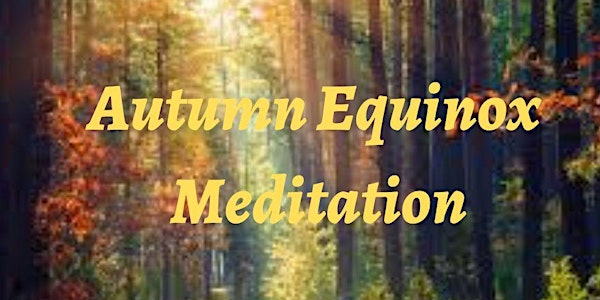 Autumn Equinox Live Guided Meditation - Free Online
​Live Guided Meditation to honour and embrace the changes Autumn Equinox brings us and create the balance we all need.
When and where
Location
Holistic Life Solutions 1744 Pilgrims Way Oakville, ON L6M 1S5 Canada
About this event
​The Autumn Equinox is a meaningful time of year to honor the harvest. Whether that be a "real" harvest of the things planted in your garden or the harvest of efforts and intentions for your life path that you set earlier in the year. It is the mid point check-in. What has been working in 2022 until now? What needs to be adjusted? It is an opportunity for us to change our ways so we can either work on adapting to the new changes it is bringing or on letting go of what no longer fits with the balance.  The significance of the Autumnal Equinox for the person walking the spiritual path is the time of year where we activate our new cycle of growth. As we become silent and rest we are allowing space for our greater vision to emerge.
The autumn equinox arrives on Thursday, September 22, 2022. The exact time of the fall equinox varies by time zone in North America, those living in the eastern time zone will experience the equinox at 9:04pm eastern daylight savings time. We will start out meditation at 9pm working with the Equinox energy  to shed what does not serve us as well as embrace the new changes to activate positive shifts on all levels.
No prior experience or knowledge is needed. You will be guided through the meditation. All you need to do is just relax, enjoy and follow the guided journey.
Holistic Life Solutions holds guided group meditation once a month. Meditations done in a group are a lot more powerful and with a guided meditation it becomes a lot easier to achieve that deep peace and overcome the chatter in our minds. We typically participate in 30 to 40 minutes of guided meditation and then share our experience . If there is time we sometimes pick Angel cards to see what messages come through. We find that after a meditation the messages we get are exactly what we need at that present time.
Join the group and experience it yourself. For any questions feel free to email nisreen@holisticlifesolutions.ca