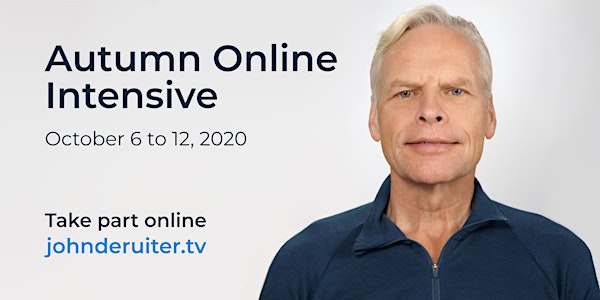 Autumn Online Intensive with John de Ruiter
This Autumn, immerse yourself in a full week of transmission, connection, and conversation.
Refund Policy
Refunds up to 7 days before event
About this event
"Have one single-pointed loyalty: you to the deepest truth that you know in your heart. It is the beginning of your real life and there is no other way to live it." - John de Ruiter
Three Interactive Live Streams a day for 7 days provides a unique opportunity to unplug from the busyness of your everyday life and plug into the real purpose of your existence.
Interactions range from the seemingly mundane difficulties of life to the deepest levels of awakening and realization. Raise your hand to connect with John or simply swim in the stream of others called to connect.
We're happy to announce that you now have the option to pre-register and pay for the entire event here on Eventbrite. If you prefer, go to John de Ruiter TV and pay per live stream.
The live streams will run daily from October 6 - 12, 2020 at the following times.
11:00am MDT (Edmonton Timezone)
2:30pm MDT
7:30pm MDT
Pre-registration options:
Full 7-day event - $200 CAD per person.
Morning Bundle (All 7 of the 11:00 am meetings) - $60 CAD per person
Afternoon Bundle (All 7 of the 2:30 pm meetings) - $70 CAD per person
Evening Bundle (All 7 of the 7:30 pm meetings) - $70 CAD per person
Advance registration is not required but can make it more convenient for you if you can commit in advance
If you prefer to pay per live stream, simply go to www.JohndeRuiter.TV and register there; $10 CAD per live stream, per person.