Sales Have Ended
Ticket sales have ended
UPDATE Sept22/2020: Thank you for your interest in this program. Given the recent COVID-safety announcements made by Minister Ford on Sept.17, our team has decided to postpone this event and offer everyone that purchased a ticket a full refund. In the meantime, we are working on another event that will be announced soon! Stay tuned on our FB Page https://www.facebook.com/FemPower-585662745124352 for details coming very soon! We pray everyone remains safe and healthy, inshaAllah. MAC femPower Team To contact us at any time, please email macfempower@gmail.com
Sales Have Ended
Ticket sales have ended
UPDATE Sept22/2020: Thank you for your interest in this program. Given the recent COVID-safety announcements made by Minister Ford on Sept.17, our team has decided to postpone this event and offer everyone that purchased a ticket a full refund. In the meantime, we are working on another event that will be announced soon! Stay tuned on our FB Page https://www.facebook.com/FemPower-585662745124352 for details coming very soon! We pray everyone remains safe and healthy, inshaAllah. MAC femPower Team To contact us at any time, please email macfempower@gmail.com
About this Event
------------------------
Description of the program:
This is an event that gathers Muslim women together to learn, engage with nature, and of course, socialize! We will engage in a captivating discussion on the frameworks for thinking and approaching realities of life. As well as developing a narrative for Muslim women in Canada - women who are proud, God-conscious and civically engaged citizens.
Don't miss this awesome day - rain or shine!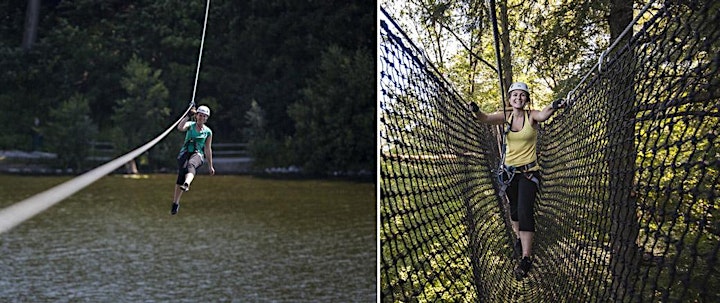 ACTIVITY OPTIONS (Only one choice per attendee)
OPTION #1: Treetop Trekking
Enjoy the beauty of Heart Lake Conservation Park from high in the forest canopy, at the new Zipline and Aerial Game Park. The aerial park features 8 courses, 10 ziplines, and more than 75 aerial games, including log bridges, cable traverses, balance logs, and tarzan swings. End time approximately 6pm.
Requirements for treetop trekking
Minimum height of 55″ or 4′ 7″
Maximum weight: 250 lbs
Must fit in the harnesses: Waist = 45 inches, Thighs = 26 inches. Harnesses must be tightened by at least 1 inch
Pregnant women are not permitted to participate for safety reasons
Guides reserve the right to determine which courses each person can go on
We do not guarantee that all courses will be open on any day or that you will have time to complete all courses during your visit
OPTION #2: GPS Rally
A forest treasure hunt. Looking for a fun and original activity to do outside, but not a big fan of heights? If so, a GPS Rally is just the thing for you! Discover nature from a new angle! With the help of a GPS unit, find waypoints in the forest and solve fun riddles to earn points! The rally takes about 2 hours depending on how fast you find all the waypoints and solve the riddles. End time approximately between 4:30-5pm.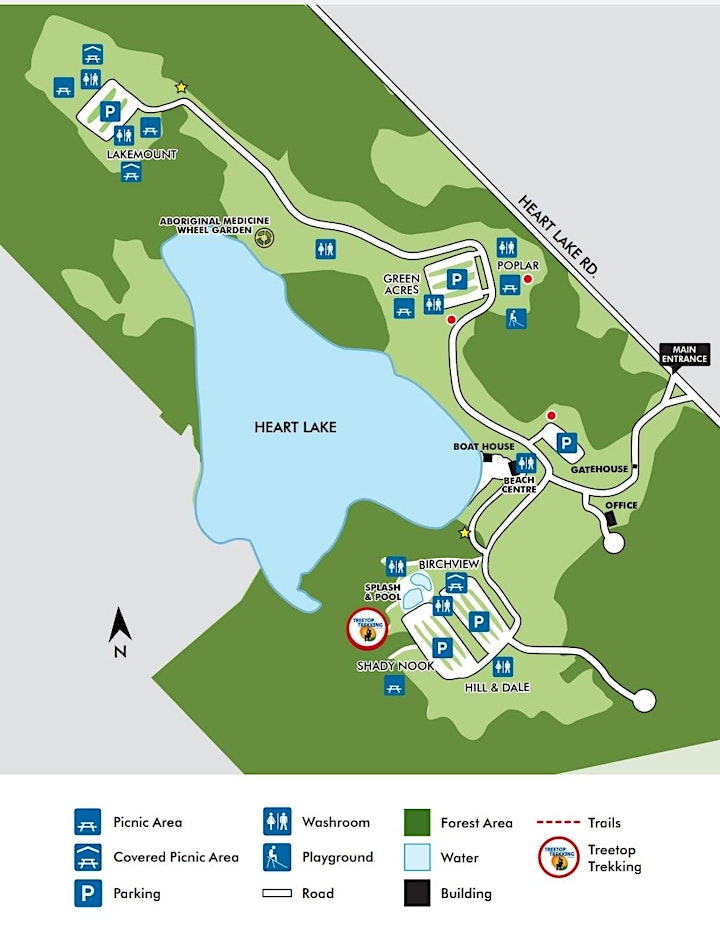 Meeting Location: Lakemount 4 (picnic site) @ Heart Lake Conservation Park
Lunch, snacks and hot drinks will be served. Help us reduce our waste footprint by bringing your own reusable water bottle!
We look forward to seeing you on Sept 27th!