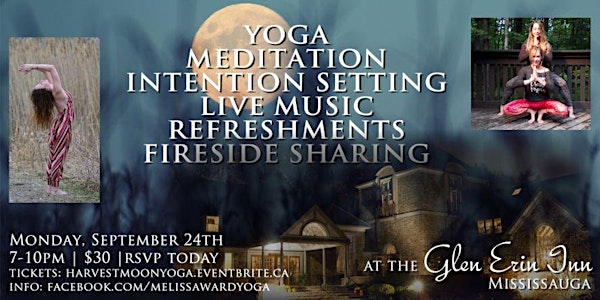 Autumnal Equinox Yoga + Harvest Moon Gathering
When and where
Location
The Glenerin Inn & Spa 1695 The Collegeway Mississauga, ON L5L 3S7 Canada
Description
You may be feeling a shift in energy lately, and it's no surprise! This month's full moon, also called the Harvest Moon will grace the skies on Monday the 24th, just two days after the Autumnal Equinox.
It's a time of change. Change in seasons, in our habits, our hobbies, our food, our wardrobes. A time when many of us begin school or perhaps a new job. There's an old weather proverb that states, "If autumn leaves are slow to fall, prepare for a cold winter." In other words, if leaves hang onto the tree for longer than usual, a colder winter is to come. This is a special time to release the things in our lives that are no longer serving us, and harvest good intentions that will help us facilitate this change and carry us into the cooler weather.
The Harvest Moon provides the most light at the time when it's needed most - to complete the harvest. Join us for a magical evening of self-care, manifesting abundance and sharing of energy.
7-8pm: Yin yoga practice
8-8:30pm: Welcome tea + refreshments
8:30-9pm: Fireside full moon reading + meditation
9-10pm: Intentions ceremony + sharing circle
"Of autumn's wine, now drink your fill; the frost's on the pumpkin, and snow's on the hill."
–The Old Farmer's Almanac

---
FAQs
Where is the Glenerin Inn?
Address:
1695 The Collegeway
Mississauga ON
Phone: 905-828-6103
Here's a map.
Nestled in Mississauga's picturesque Sawmill Valley Creek, Glenerin Inn is a massive yet cozy setting for our gathering.
Set amidst two acres of estate grounds, the stone mansion and carriage house boast heritage building status and are connected by a newly constructed underground pathway. Interiors showcase the property's original period features including grand stone fireplaces, exposed ceiling beams, 1940s stained glass, and oversized windows.
What should I bring into the event?
-A yoga mat!
-Comfortable clothing
-Ticket/proof of payment
We will provide refreshments, yoga props and blankets, writing materials and a take-home piece.
What level is the yoga session?
All levels are welcome for our Yin yoga session. It will be a slower, more meditative style class with music and many variations offered.
What if it's raining?
The Glenerin Inn has a beautful room we can use with an indoor fireplace should the weather be crummy.
How can I contact the organizer with any questions?
Contact Melissa Ward directly by email at contact@melissawardyoga.com or call 647-818-3635