YEAR END INVESTORS Party of AVATAR FX Team Canada
About this event
YEAR END Investors Party of AVATAR FX Team Canada
Come and bring your friends by confirming through our EVENT BRITE We only have limited spots only.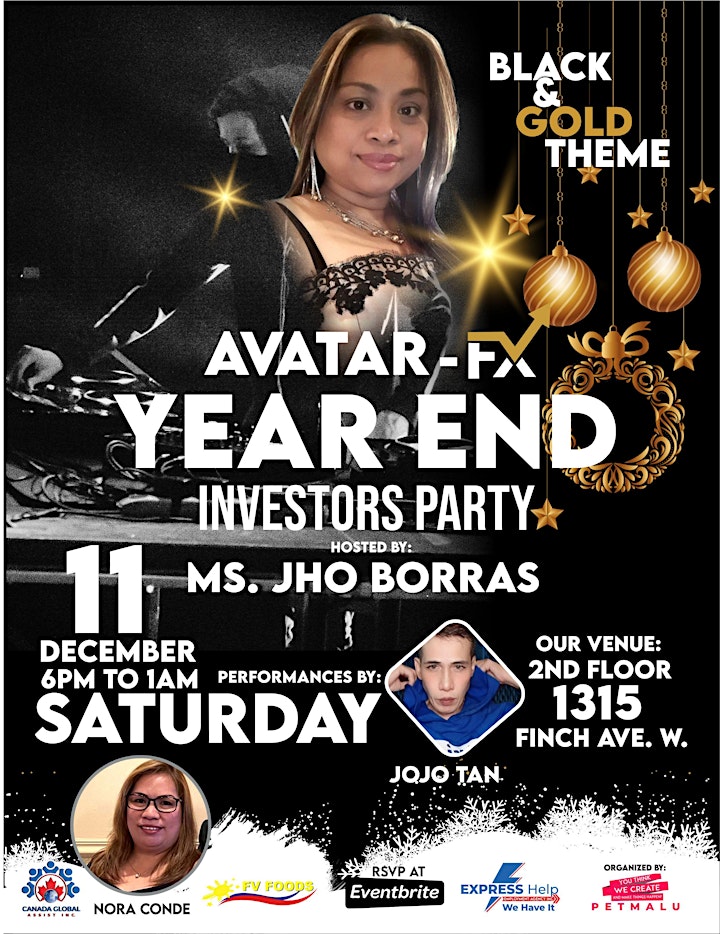 YEAR END Investors Party of AVATAR FX Team Canada
Organizer of AVATAR -FX-YEAR END INVESTORS PARTY
Why choose
PETMALU Events to manage your event?
PETMALU Events will use its expertise and resources to substantially develop and promote your event and enhance the participant's experience by providing a range of support services to ensure a successful event.
WE can remove the administrative burden placed on you in organising your event. We will advise you on the whole event organisation allowing you to spend core time on your business safe in the knowledge that your event is being supported and administered by dedicated event management professionals.
Saves you valuable time and money
All aspects of the event management proposal can be organized in-house using our own full time staff, resources and technical capabilities and expertise
A one-stop shop for all your event management requirements
A range of marketing options will place you in front of your target audience
PETMALU specializes in staging shows, road shows, concerts, mall shows, audio visual presentation, corporate events, raffle draws, anniversaries, ribbon cutting ceremonies, product launches, fashion shows, conventions, grand opening shows, corporate parties, product promo, beauty pageant, competitions, production management, special events, concert consultation, trade and mall exhibit, line producing, talent and booking managing, catering services, professional sounds and lights, stage backdrop and designs, directing and scriptwriting and a lot more. With a competent list of staff, VIP has grown to become one of the most sought after production outfits in the business today and has in fact established itself with a huge number of clients.
Our existing clients would attest that they were satisfied with our performance and services and had a good time working with us. No client has ever complained with the kind of services we provide them, because for us, we put so many premiums in long-term relationships with our clients, no matter how small or big the project is.

NATURE OF BUSINESS: Special Events organizer, Concert producer and consultant, Exhibit organizer, Line producer, scriptwriter and director, Talent Manager. & Artist Booking Agent, TV/AVP Commercial consultant, Professional and sounds and lights, Band instruments, Stage and backdrop designs, Marketing specialist, Video and photo coverage, Catering services. As line producer & production arm VIP handles Concert projects in Metro Manila and provinces, Conventions, trade shows, mall shows, school Fairs, product launches, inaugurations, As management agency, VIP places its talents in selective bookings and acquires for them the Support necessary in establishing their respective careers.