Online Forum from New York
About this event
Avoiding the Legal & Organizational Landmines
• Legal Risks
Employees who refuse to return
Employees who announce that they are Anti-Vax
Liability to secure a safe workplace for employees and customers
• Organizational Challenges
Current Issues in Managing the Return to the Workplace
Key steps to take now to mitigate problems
• Prioritizing Next Steps
Evaluating Pandemic pivots
Reassessing your risks and opportunities
The Importance of Leadership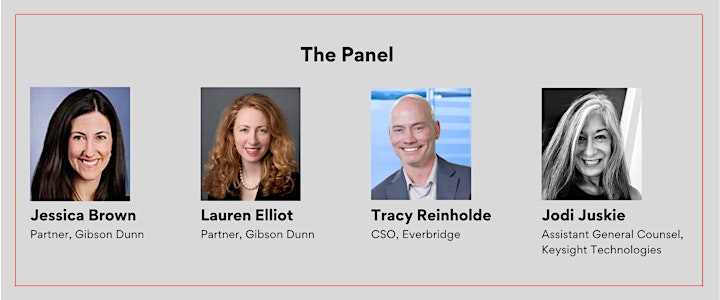 Jessica Brown
Jessica is a partner in the Denver office of Gibson Dunn. She practices law in the area of Labor & Employment. She has been ranked by Chambers USA for sixteen consecutive years as one of "America's Leading Lawyers for Labor & Employment", and also has been listed consistently in The Best Lawyers in America in the practice area of Labor & Employment.
Lauren J. Elliot
Lauren is a litigation partner in the New York office of Gibson Dunn. Lauren represents clients in a wide range of industries and has extensive experience litigating complex, high value commercial cases in trial and appellate courts across the country.
Tracy Reinhold
Tracy is the CSO at Everbridge. He is responsible for working closely with customers and partners to optimize their organizational approach to managing and responding to critical events. Tracy has served in executive leadership roles in security and incident management for Fannie Mae, Walmart and at the FBI.
Jodi Juskie
Jodi is Assistant General Counsel at Keysight Technologies, Inc., and previously in-house counsel at Agilent and HP. Jodi has been involved in the legal considerations surrounding covid at the corporate level for over a year. She brings the wealth of her experience as in-house counsel to the panel.

Date and time
Location
Refund policy
Organizer of Avoid Lawsuits, Citations & Fines - Managing the Return to the Workplace