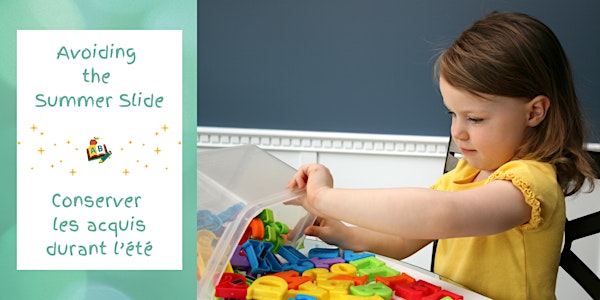 Avoiding the Summer Slide / Conserver les acquis durant l'été
Avoiding the Summer Slide - Thursday July 7 / 1:00 - 2:30 pm
About this event
The term summer slide refers to the potential of a child "sliding backwards" with their skill development over the summer months when they are not in school.
In this workshop, I'd like to show you some fun and engaging activities you can do with your school-aged child (up to grade 1), and for those just entering kindergarten. While the summer break is a time for adventures and fun, let's add in a bit of skills development at the same time - like math, science, language and problem solving. Let's keep the momentum going over the summer so that your child can be ready for the new school year.
In order to attend the workshop you will need to access Zoom (link and password in reminder email) on an electronic device (tablet, laptop, computer, phone etc.) and a reliable internet connection.
For the security and safety of all our clients, it is important that each client checks in on camera with the facilitator at the beginning of program. Please be prepared to show yourself via camera at the beginning of each virtual program.
For parents of children aged 3 to 7 years old.
*Open to Ontario residents only.
___________________________________________________________________________
Pendant l'été, il est possible qu'un enfant « glisse en arrière » avec le développement de ses compétences au cours des mois d'été lorsqu'il n'est pas à l'école.
Dans cet atelier, j'aimerais vous montrer des activités amusantes et intéressantes que vous pouvez faire avec votre enfant d'âge scolaire (jusqu'à la 1re année) et pour ceux qui commencent tout juste la maternelle. Alors que la pause estivale est une période d'aventures et de divertissement, ajoutons un peu de développement des compétences en même temps, comme les mathématiques, les sciences, le langage et la résolution de problèmes. Continuons l'élan au cours de l'été afin que votre enfant soit prêt pour la nouvelle année scolaire.
Pour participer à cet atelier, vous aurez besoin d'accéder à Zoom (nous vous enverrons le lien et le mot de passe dans le courriel de rappel) sur un dispositif électronique (tels qu'une tablette, un portable, un ordinateur, un téléphone cellulaire, etc.) et une connexion internet fiable.
Pour protéger à tous nos clients, il est important que chaque client active sa caméra au début du programme pour que la facilitatrice puisse vous voir. Préparez-vous à activer votre caméra, au moins pour quelques secondes, au début de chaque programme virtuel.
Pour les parents d'enfants âgés du 3 à 7 ans.
*Ouvert seulement aux résidents de l'Ontario.
*Cet atelier est offert en anglais seulement
FAQs
Where can I contact the organizer with any questions? Pour communiquer avec l'organisateur
earlyONyva@wocrc.ca
Can I update my registration information? / Est-ce que je pourrai faire des changements à mes informations?
Yes / Oui
How do I join the online workshop? / Comment puis-je participer à l'atelier en ligne?
The link and password to join will be sent in the reminder email. / Nous vous enverrons le lien et le mot de passe dans le courriel de rappel.