Engagement sessions to discuss future redevelopment of High School sites in the Avondale neighbourhood of Grande Prairie.
About this Event
Avondale High School Sites Area Redevelopment Plan
The City of Grande Prairie has been preparing an Area Redevelopment Plan (ARP) for the area containing the Composite and Peace Wapiti High Schools, the Leisure Centre and the adjacent fields in Avondale. Construction of a new Public High School has begun. Once finished the existing Composite High building, and a portion of the Leisure Centre, will be demolished. The purpose of the ARP is to identify the future land uses in the area once demolition is complete.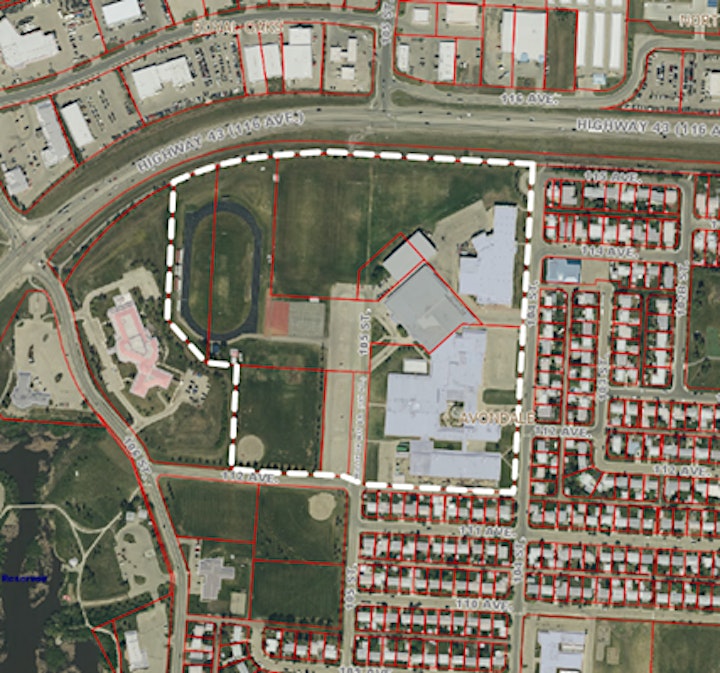 You're invited…
Public Engagement Session #2
You are invited to attend a public engagement session to review the Short, Medium, and Long Term land use concepts that have been developed. City Planners will be available to provide information and answer any questions you may have.
In-Person at Ernie Radbourne Pavilion
November 3, 2020 (Multiple Sessions)
November 4, 2020 (Multiple Sessions)
On-Line Via Zoom
November 5, 2020 (6:30PM - 7:30PM)
Registrants for the on-line session will be e-mailed a meeting invitation link prior to the meeting. Zoom meetings can also be attended over the phone by using the call-in number that will be provided.
Due to COVID-19 access to sessions will be by reservation only.
We look forward to seeing you!
If you have any questions or comments please contact Dan Whelton with the City of Grande Prairie Planning Department:
Dan Whelton, Senior Planner
dwhelton@cityofgp.com
(780) 882-7811