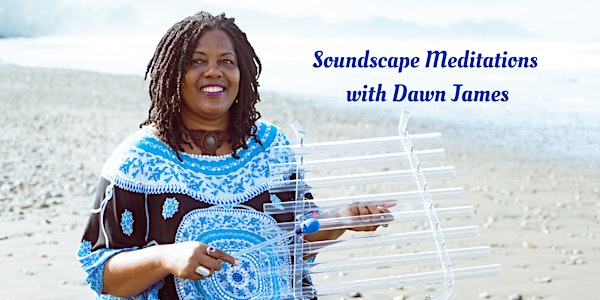 Awaken - A Soundscape Meditation with Dawn James
Enjoy and Immerse yourself in harmonic vibrations as sound healer Dawn James plays several instruments: singing bowls, crystal lyre & more.
Refund Policy
Refunds up to 7 days before event
About this event
A Soundscape meditation is...
an eclectic harmonic blend of soothing instruments played with the intention using sound frequencies to restore, realign and recalibrate the physical, mental, and emotional body. This is a journey into deep relaxation and an opportunity to heal.
Benefits of Sound Healing/Sound Meditation:
This sound bath is based on ancient healing techniques that use various sound frequencies (i.e. alpha tones, binaural beats, harmonic overtones) to connect with your body on a cellular level, stimulate the brain wave frequencies to create alpha or theta brain wave states and recalibrate your body and mind!
About Facilitator Dawn James
Dawn James has been a musician for over 20 years, is a certified sound healer, energy practitioner, and a spiritual mentor. She shares her love for teaching others how to live consciously through her books. She is an award-winning author of Unveiled: Autobiography of an Awakened One Learn more at www.dawnjames.ca
What to expect:
First, a brief introduction and presentation of the various instruments to be played.
I'll guide you through a meditation and play a variety of healing instruments while you bathe in the sound. This part will last about 40 minutes and then I'll guide you back to present space/time and we can share what we experienced if you'd like to.
Some tips to make the most of your experience:
• Be well hydrated and have water or herbal tea nearby (this helps energy flow easier)
• Wear comfortable clothes
• Sit or lie down somewhere that is most comfortable for you
• Set aside 60 minutes to be fully present somewhere you will not be disturbed
• Wear earbuds/headphones if possible
• Have a blanket nearby in case you get chilly (some people experience temperature changes)
• Have a notebook handy for after the event if you are called to write down notes, insights, impressions about your experience