Awards Ceremony | Coast Capital Savings Venture Prize 2021
Celebrate the winners of #VenturePrize2021 with us!
About this event
Awards Ceremony | Coast Capital Savings Venture Prize 2021
Join us in celebrating the 10th anniversary of the Coast Capital Savings Venture Prize and the conclusion of another exciting competition as we announce the winners at the Awards Ceremony. Meet SFU's most promising entrepreneurs!
PRIZES
Top Venture Prize
Top Idea Prize
Top Local Impact
Top Digital Platform
Top Research & Development
Female Founder award
Social Impact award
SFU Alumni Founder award
Date: April 21
Time: 2PM
Location: Online
Open to the public.
NOTE: For security reasons, you must be registered to attend the event and to receive the Zoom link. Individuals who are forwarded the Zoom link, but are not registered will not be admitted to the online event. Thank you for understanding.
>>Meet the Finalists<<
We're excited to introduce you to the 17 finalists (nine from Venture Stream and eight from Idea Stream) who will be racing to the end in April. From fintech to life education for youth to detecting unpredictable diseases, the finalists demonstrate the need for entrepreneurship and innovation across the field.
🔗 Visit our webpage to meet the finalists.

Coast Capital Savings Venture Prize 2021
The Venture Prize competition, organized by Coast Capital Savings Venture Connection, celebrates innovative ideas and entrepreneurial pursuits from the Simon Fraser University community.
Competitors are given the opportunity to practice venture ideation, business plan writing, and presenting pitches. They'll receive support in dedicated workshops and coaching sessions from Venture Connection's mentors prior to the finals in April.
The competition is open to early-stage business ventures founded by SFU students from undergraduate, graduate and professional programs (e.g MBA), as well as by staff, faculty, and recent alumni.
Competitors are judged by a panel of industry experts on the quality of their business concept, current progress and future plans, founder track record and presentation skills.
10 years of the Venture Prize competition
$75K in cash and prizes awarded to winners in 2020
Going online: SFU's spring semester classes are taking place online. In light of this, the Venture Prize competition will be an entirely virtual experience in 2021.
Visit bit.ly/ventureprize2021 for the list of prizes and more information.

Western Canada's first university business incubator, Coast Capital Savings Venture Connection® is a university-wide incubator, entrepreneurship training program for students and recent alumni. From the initial business idea through to validation, Venture Connection® supports individuals exploring entrepreneurship possibilities. The program offers an early-stage business incubator, mentorship, co-op education terms, competitions, networking opportunities, workshops and seminars. Venture Connection® collaborates with all SFU faculties and departments, including the Beedie School of Business, the Faculty of Applied Sciences, the Faculty of Communication Arts and Technology, Work Integrated Learning and a wide-range of external partners. The program is supported by professional staff, including Mentors-in-Residence with substantial experience in a range of industries.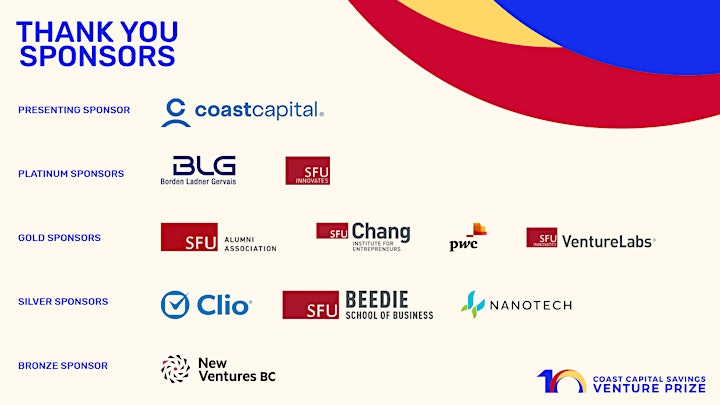 Organizer of Awards Ceremony | Coast Capital Savings Venture Prize 2021