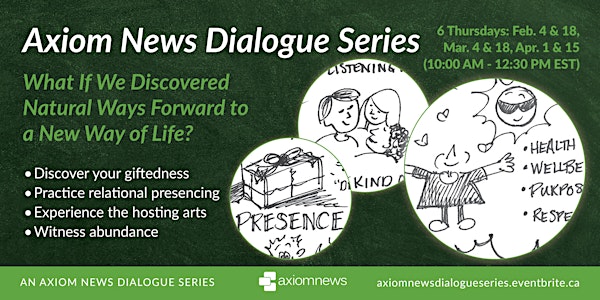 Axiom News Dialogue Series
A 6-part highly participatory dialogue series to explore a new way of living and leading.
Refund Policy
Contact the organizer to request a refund.
Eventbrite's fee is nonrefundable.
About this event
What If We Discovered Natural Ways Forward to a New Way of Life?
Associational Life, Livelihood, Friendship, Peace of Mind might be just around the corner
The advent of COVID-19 threw many of us back on ourselves. As we consider Building Back Better, working the same structures and running the same patterns of interaction will not relieve us of the burdens we bear, the repressions we accept, nor liberate our giftedness or abundance.
It is possible to walk a new path with clarity, know our intentions, support and encourage one other enough that we can each take our next steps. Finding these paths will take a new kind of leadership: participatory leadership. The new leader does not demand and command, but instead convenes and connects. The new leader is patient, attentive, and smiles a deep smile when bearing witness to giftedness. The new leader surfaces the inner clarity of others with careful questions. The new leader only teaches or tells when asked to do so. The new leader... hosts.
We can by these means deepen democracy so much so that the intrinsic value of every person in our midst is honoured, their gifts are brought into the light, nurtured, strengthened, and brought to bear alongside one another.
Workplaces can rewrite their social contract by changing the patterns of interaction between the people who choose to spend their time in them.
Associational life can arise from the materials at hand and the people with whom we find ourselves in company. The fabric of community can be woven by diversity and interdependence. A mosaic of character can fill our lives with colour.
Perennial pathfinders can weave new ways into their schools, workplaces, enterprises, communities and the liminal spaces between community and institutions… with support.
A resonant field of kindred spirits to which you can return for nourishment and encouragement, tips and tricks, clarity and co-creation is forming.
We can shift from power over to power with… and there is so much more life to be experienced, good but not tame, Life. This could get wild.
If you would like to:
Step into an oasis in a global storm of shifting sands
Find your intention
Discover your giftedness
Practice relational presencing
Experience the hosting arts
Journey through a sequence of conversations that manifest new possibilities
Experience a variety of dialogue forms* for cultivating community
Witness abundance
Explore the principles and practices of hosting a generative field
Learn how to lead in the new way
Form new and lasting friendships
Find yourself in relationship enough to take your next steps, whatever, whenever, and wherever they are
Become a strand in a trans-local, life-giving mycelial matt of generativity
This dialogue series might be for you!
Awakening Community is a 6-part series of 2 ½ hour artfully-hosted HIGHLY PARTICIPATORY dialogues. The dialogue will occur between participants in a variety of dialogue forms. Each conversation will unfold from the last, emergence will foster surprising unfolding.
Dates and Times:
Thursdays: February 4, February 18, March 4, March 18, April 1, April 15
7:00 AM PST / 10:00 AM EST / 3:00 PM GMT / 4:00 PM GMT+1
Where: In your favourite room … by Zoom.
If you choose to join us, we ask that you:
Arrive to each call a few minutes early
Commit to attending every gathering
Be fully present while at each gathering
Come prepared to learn from others
Share your gifts
There are two ways to participate.
1. Participant
You can join the conversation for the pure experience of it.
2. Participant Plus Learning Circle
You can also additionally sign up for a debrief and workshop series that will accompany your experience. These sessions are intended for people who are ready and desirous of hosting similar conversations in their own environs. We do not like to offer the instruction independent of the experience… as experience is our best teacher. We are committed to community first, and content second. Furthermore… learning is live… our experience together will teach us all new things.
Learning Circle Participants will meet each Tuesday following each series event at the same time for 90 minutes: February 9, February 23, March 9, March 23, April 6, April 20 at 7:00 AM PST / 10:00 AM EST / 3:00 PM GMT / 4:00 PM GMT+1.
If this time proves to be a barrier, please let us know by writing to events@axiomnews.com. We are open to working with participants to find a time that works for all who are interested. So, far those interested have indicated they have flexibility around this time.
It will not be necessary to attend all learning circle events. Recordings and resources will be made available to you. You will also be invited, at no extra cost, to related Axiom News workshops that may be of interest, as well as to the Learning Circle Linked In group.
The Learning Circle will also welcome you to share your own knowledge and wisdom.
This Dialogue Series will require a minimum cohort of 20 participants to commence.
A total of 40 seats are available.
* The dialogue forms we rely upon include:
Peter Block's Six Conversations
Dyadic and Triad Work
Relational Presencing
Sprinkles of Non-Violent Communication
Open Space
World Café
Design Lab
Art Therapy
Circle
Working Circle
Clearness Committee
We stand on the shoulders of many wonderful people who walked these paths before us. These are but a few of their contributions.
Free Pre-launch Information Sessions:
If you would like to learn more before committing to this series, please join one of our free 90-minute information sessions:
1. Wednesday, January 13, 2021 (register here)
7:00 AM PST / 10:00 AM EST / 3:00 PM GMT / 4:00 PM GMT+1
2. Friday, January 15, 2021 (register here)
7:00 AM PST / 10:00 AM EST / 3:00 PM GMT / 4:00 PM GMT+1
You MUST REGISTER to receive the link to these calls.
If you have any questions, write to events@axiomnews.com.