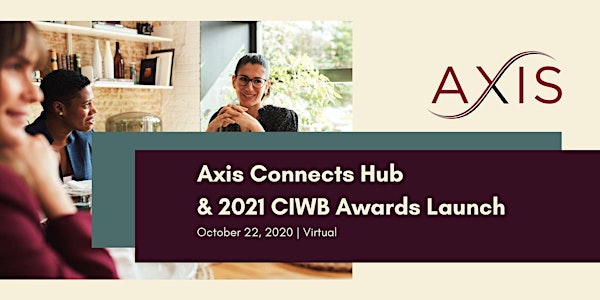 Axis Connects Hub & 2021 CIWB Awards Launch (Virtual)
We are thrilled to launch our Axis Connects Hub & the 2021 CIWB Awards! Join us virtually to hear what's in store!
About this event
Our inaugural Calgary Influential Women in Business Awards, seems like a lifetime ago, when we hosted over 700 people at the Hyatt Calgary on March 5th, 2020 – making it one of the last events to make it across the finish line before our city, country and the world were shut down as a result of COVID-19.
For a quick reminder of how fantastic the evening was, please watch our short highlight reel by Critical Mass here.
Since the event, we have been busy! We know that in these challenging times, it is our responsibility to step up for women and diverse professionals who need Axis Connects more than ever before, and we're holding ourselves accountable to succeed in the pursuit of advancing these groups into progressively more senior decision-making roles in our business community. Our next year will look a bit different than we had originally planned, but we know that the foundation we've built will be critical in the short-term, and fundamental over the long-term for the success and advancement of women and diverse professionals in Calgary.
Our Axis Connects Hub online platform will go live on October 22, 2020 at a sneak peek with our Sponsors & Partners. Join us virtually to explore the Hub and help us launch the 2021 CIWB Awards! A link to view the experience will be sent to registered guests.