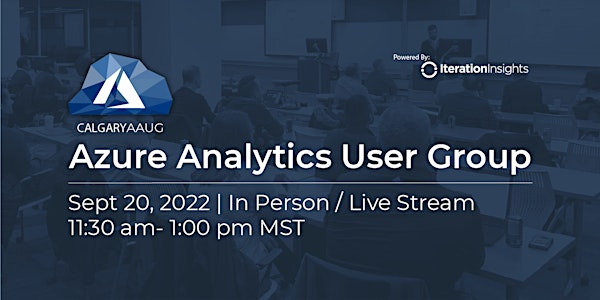 Azure Analytics User Group | September | Virtual and In Person Meeting
The purpose of this group is to discuss and keep up with the ever-shifting landscape of the Microsoft Azure analytics stack.
When and where
Location
110 9 Ave SW 110 9 Avenue Southwest Seventh Floor Calgary, AB T2P 0S9 Canada
About this event
Join us on Sept 20, 2022 at 11:30 am MST for an In Person / Live Stream Event! The purpose of this group is to discuss and keep up with the ever-shifting landscape of the Microsoft Azure analytics stack.
Event Delivery
This meeting will be held in person at the Calgary Microsoft Office located at:
110 9 Ave SW, Calgary, AB T2P 0T1 on the Seventh Floor.
If you cannot attend this meeting in person, please join via livestream hosted on Microsoft Teams during the time of the event.
Tickets
Please choose your ticket type at check out to indicate whether you are attending either In Person or Live Stream for the event.
AGENDA
11:30 am – 12:00 pm - Networking Session & Lunch (In Person Attendees)
12:00 pm - 12:05 pm - Meeting Welcome & Introduction
12:05 pm – 12:50 pm - NewSQL and Distributed Open-Source Databases | Tyler Becker and Giri Berenstein
12:50 pm – 1:00 pm – Azure Pricing Calculator Tidbit| Jarid McKenzie
SESSION OVERVIEWS
NewSQL and Distributed Open-Source Databases | Tyler Becker and Giri Berenstein
What is NewSQL?
Learn why NewSQL systems are becoming more popular to address structured and semi-structured distributed data use-cases.
In this presentation, we will explore how Azure provides the capabilities of NewSQL with open-source services such as PostgreSQL; then review Azure's PostgreSQL Citus Hyperscale, a distributed architecture that supports NewSQL for high performance transactional and analytical patterns.
Azure Pricing Calculator | Jarid McKenzie
Did you know about this online tool that will help estimate your monthly Azure consumption costs? In this short tidbit, Jarid will show you where to find the resource, how to use it, and take you through a simple example.
SPEAKERS
Tyler Becker
Over the past 15 years I have helped organizations differentiate themselves by providing the insights they need to not only run their business, but achieve a competitive advantage. I have experience leveraging the latest cloud technologies to gain operational insight, better understand customer behavior and empower clients to make intelligent decisions. Equipped with a balance of business understanding and strong technical abilities, I bring a pragmatic approach to ensuring the technology used is providing real business value. There is a Russian proverb, later adopted by Ronald Reagan, that said it well: "trust, but verify".
Giri Berenstein
Solution Architect, DBA and Project Manager with Enterprise Data Warehouse, Analytics and Big Data expertise.
Giri's technical knowledge spans the Data Management discipline, from traditional Data Warehouses to leading edge Big Data initiatives. Technology is never an issue.
"I believe in a can-do approach - there are no problems, just challenges!"
Jarid McKenzie
Jarid McKenzie, BSc. In Mathematics and Statistics and certified in Business Intelligence from the University of Calgary, is co-owner and Lead Analytics Architect for Iteration Insights.
Jarid has eight years of experience working in the digital space, including teaching Business Intelligence at the University of Calgary and the Southern Alberta Institute of Technology (SAIT). Currently, he is on the advisory board for the Business Intelligence Program at SAIT and is a mentor to many graduates from this course.
As an active member of the Power Platform and Azure Analytics User Groups in Calgary, Jarid loves to share his knowledge with the community by speaking at major data analytics events, such as the Power Platform World Tour held in Calgary last year.
About the Group
Whether you have a depth of knowledge in a certain area that you want to share or are looking to branch out and learn new aspects of the Azure stack, this is the group for you.
More than learning, the Azure Analytics User Groups is a great place to find professionals in the industry. For those new to the industry (like students), this user group is the easiest and best way to get a good introduction to Azure.
We will discuss the use and direction of tools such as:
Azure SQL
Azure Synapse (formerly Azure SQL DW)
Azure Analysis Services
Data Factory
Azure Databricks
Azure storage
Azure DevOps
Power BI
The discussion is not limited to these products and will change over time.
Speakers
To Be Announced
Speaker/Sponsorship opportunities
We welcome anyone who wishes to become involved with one of our user groups. From seasoned presenters to those that are just getting started, there are always opportunities to speak at one of our user groups. For sponsors, this is a great chance to get in front of a dedicated audience of data lovers. Email Renata Kalsbeek at renata.kalsbeek@iterationinsights.com for more information on these opportunities.