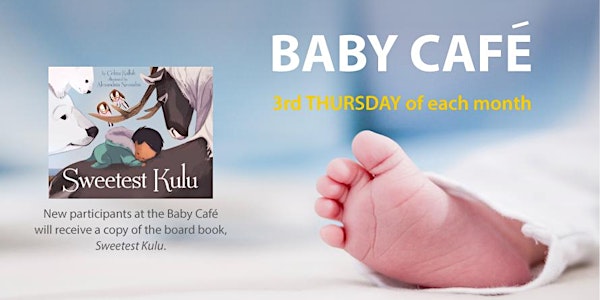 Baby Café (0-12 Months)
Baby Café (0-12 Months)
When and where
Location
Town Park Aurora 49 Wells Street Aurora, ON L4G 1H1 Canada
About this event
Bond with your baby and connect with other families. Jackie Thornton will start each session with hands-on gentle movements designed to enhance your baby's physical development and well-being. Following will be a discussion of topics of interest to parents and caregivers with an Early Learning Specialist.
Make new friends – and give your baby the opportunity to make new friends too!
In partnership with EarlyON Child & Family Centres Aurora.
*Masks required for ages 2+. Social distancing will be maintained.
New participants at the Baby Café will receive a copy of the board book, Sweetest Kulu.
This beautiful bedtime poem, written by acclaimed Inuit throat singer Celina Kalluk, describes the gifts given to a newborn baby by all the animals of the Arctic.
Lyrically and tenderly told by a mother speaking to her own little "Kulu," an Inuktitut term of endearment often bestowed upon babies and young children, this visually stunning book is infused with the traditional Inuit values of love and respect for the land and its animal inhabitants.