About this Event
Wear your pajamas and bring your stuffy!
Join Lee Ann for a special evening sing & sign class! Watch from the comfort of your own home (or wherever you may be) on your smart phone, tablet, laptop, desktop or smart TV.
We cover the signs for:
Bed
Blanket
Bath
Bubbles
Soap
Goodnight
...and more!
Simple songs will also be taught along with the signs to make it easy for both you and your little ones to learn effortlessly.
Sign language is helpful for all ages! It's never too soon nor too late for you to tap into your little one's natural affinity to express needs and wants with their body. Newborns will slowly but surely learn your signing patterns with our playful approach, and older babies and toddlers will grasp our signs for ease in their communication and language acquisition. And everyone will be less confused and frustrated, including you.
It's not tricky, but there is a secret to getting your baby to understand and respond to your signs before they resort to crying, screaming or tantrums.
Your baby has so much to tell you!
*Please note: access to a Facebook account is required to view the course.
"I would highly recommend Lee Ann's classes. I really enjoyed learning a new skill while having fun with my baby. We sang rhymes and songs, which is a really nice way to learn and remember the signs while having fun interactions with our little one. My little one is only 6 months but I can tell he is already reacting to some of the signs I'm using. Also, my older son who is nearly 7 started using signs as well to communicate with his brother which is a great bonus and will help him communicate and bond with his little brother before he can actually talk. A big thanks to Lee Ann for a great course !"
-Karine & baby Marco
HOW OUR FACEBOOK CLASS WILL WORK:
Just like a regular in-person class , once registered, you'll be invited to join a private class group on Facebook where Lee Ann will lead our class on video. We sing, sign and play together for about 50 minutes, from my house to yours! You are able to watch our class anytime to practice as many times as you like.
*Please note: access to a Facebook account is required to view the course.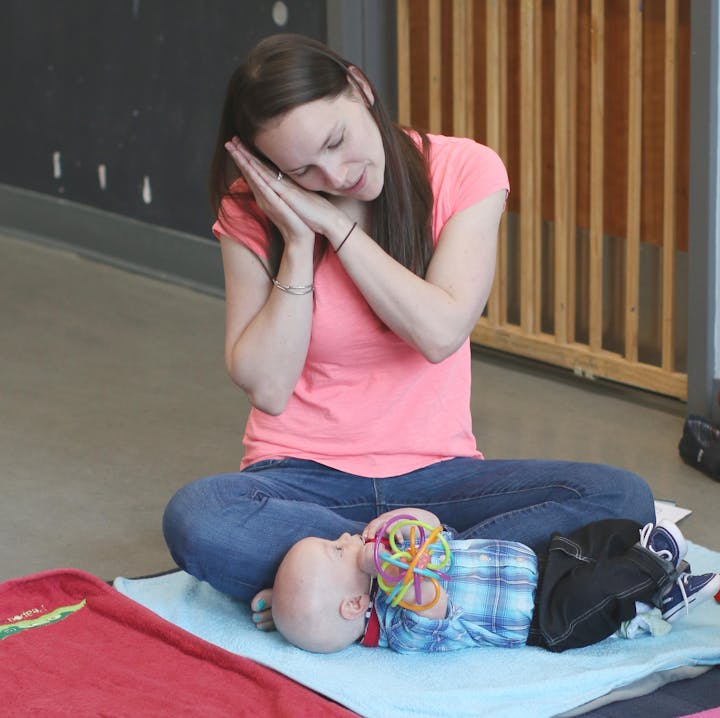 It is easy and FUN to teach sign language to your little one, and you'll never regret supporting their early language acquisition skills, which studies show augments their ability to acquire verbal speech down the road.
See more info at www.signingbabies.ca
Date and Time
Refund Policy