Location
Buonanotte
19 Mercer Street
Toronto, ON M5V 1H2
Canada
Description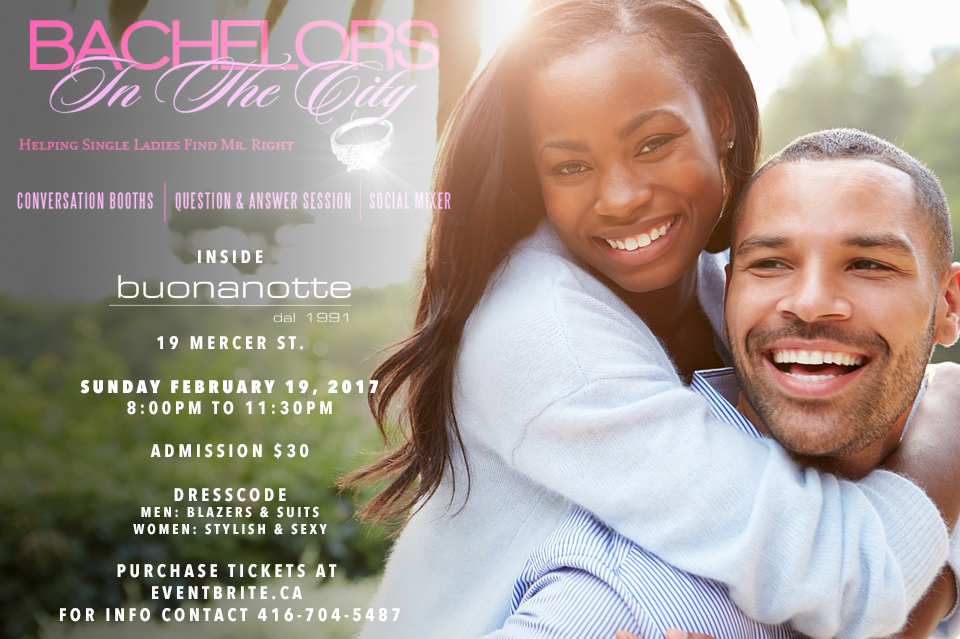 SUNDAY FEBRUARY 19th, 2017
FAMILY DAY LONGWEEKEND
BACHELORS IN THE CITY – TORONTO EVENT
Helping Single Ladies Find Mr. Right!
Question & Answer Session | Conversation Booths | Social Mixer
Inside
BUONANOTTE SUPPERCLUB
19 Mercer Street
Between John St. and Peter St.
Toronto, ON
M5V 1H2
This event is for single women searching for eligible bachelors who are seriously looking for a long term relationship.
Age group...28 to 49.
Hosted By: G.Q. Henderson – LifeStyle Events Designer and MC
G.Q. Henderson will use this unique event to build, communicate, and develop lasting relationships for professional singles searching for love.
Limited spaces available
Upscale Dresscode:
Bachelors & Ladies... Stylish & Elegant

Doors open at 8:00pm... Event ends at 11:30pm
For $30 tickets & info...
Online ticket Outlet:
www.eventbrite.com
Email Money Transfer
g.q.henderson@hotmail.com
Question: "Bachelors In The City __________?"
Password: "events"
CONTACT 416.704.5487
www.bachelorsinthecity.com
There is only one happiness in life to love and to be loved.