Location
Cardel Theatre
180 Quarry Park Boulevard Southeast
Calgary, AB T2C 4J1
Canada
Description
Feb 11, 2015: We are delighted to report that we have SOLD OUT Back Cast FFFF 2015!!!

We have now SOLD OUT six of the eight years of this special event's existence!

Thank you to all of our fans and supporters for making this happen.

For those lucky fans who have tickets, just a few reminders:

- Doors open at 5:00 pm. The Perogy Boyz will be on hand to feed the masses. :-)

- 'Pre-Event Social runs 5:00 pm-6:30 pm. Visit with 'The Friends of Back Cast FFFF' who will have display tables in the lobby.

- Please remember to bring a donation for the food bank.

- Bring some extra coin for the raffle. Many local fly shops and other fly fishing related businesses have donated items for the cause!

See you at the movies!

Kind regards,
Michelle
Jan 27, 2015: We're pleased to report that we managed to sell all of our remaining tickets at the WCFF Expo over the weekend!
HOWEVER... we do have a number of tickets set aside for the volunteers that we have asked to help us the evening of the event. And we have not yet firmed up the attendance of each of them. So, there is a chance that a few tickets might become available over the next week or so. If you are interested in this possibility, please send me an email with your name, phone number and email address, and I will put your name on a 'wait list'. Thanks again to everyone who is supporting this special event. - Michelle, Bow River Shuttles

Jan 23, 2015: We have temporarily suspended online tickets sales until Monday January 26, 2015.
The reason is that we have only a small number of tickets remaining, and they are for sale at the Bow River Shuttles display booth at the Western Canadian Fly Fishing Expo (Jan 23-25) at Spruce Meadows. (Special 'Show Price' $15.00)

Should we have unsold tickets after the Expo, we will once again make them available for online sale on this site on Monday Jan 26. Please check back at that time. Thank you for your interest.
- Michelle, Bow River Shuttles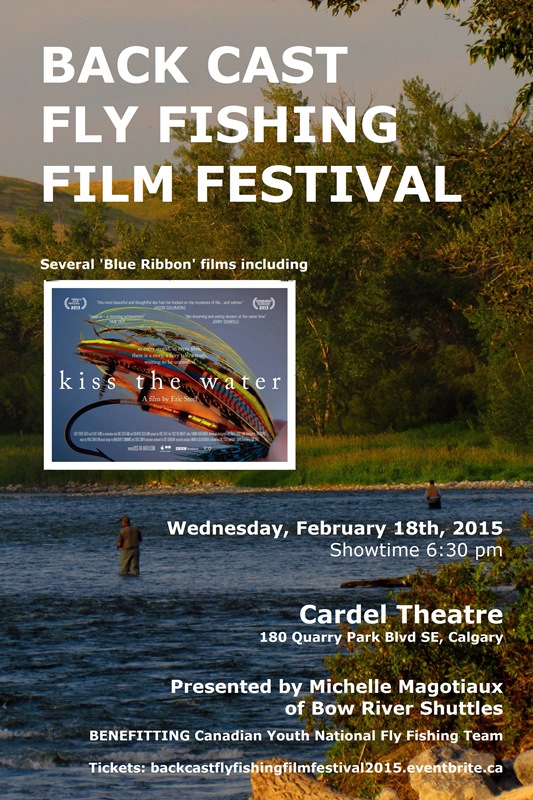 The Back Cast Fly Fishing Film Festival is one of the most anticipated annual events in the Calgary fly fishing community.

This exciting event is organzied and presented by Michelle Magotiaux, owner/operator of Bow River Shuttles, and is part of her Community Support Program.

Back Cast Fly Fishing Film Festival was the first, and is the longest running, film festival of its kind in Calgary, and for that matter, in Canada. This will be the 8th Annual presentation!

As in past years, Back Cast fans will be treated to a number of full length films from some of the best fly fishing film producers on the planet.
Net proceeds will be donated to the Canadian Youth National Fly Fishing Team.

Bring some extra coin for our raffles! You might leave with more than you came, thanks to our supporters and sponsors!

Doors open: 5:00 pm. Please come early for a pre-event social gathering, including 'Friends of Back Cast FFFF' display tables, bucket raffles & food truck!

Enjoy a tasty dinner and some great movies! The Perogy Boyz food truck on site. Gourmet Eastern European-inspired street food!
Showtime: 6:30 pm (scroll down for movie trailers and reviews)

There will be an intermission.
Event ends: 10:00 pm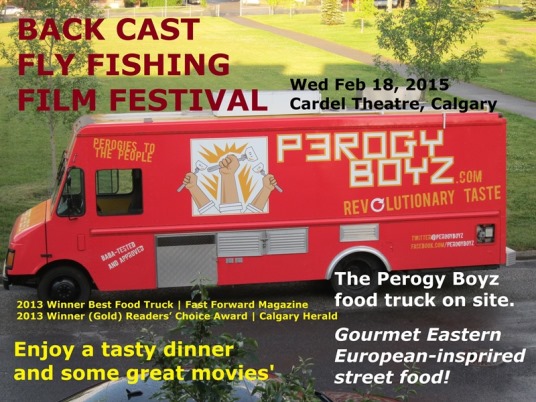 The Cardel Theatre, the home of Michelle's 'Back Cast Fly Fishing Film Festival', is providing their beautiful theatre free of charge, as they do for similar not-for-profit events.

Cardel Theatre provides their facility free of charge for such events, in return for attendees contributing to the Calgary Food Back. Please bring a food bank donation. We strongly recommend the Safeway $5 or $10 'Care Package' or the $10 Calgary Coop 'Food Bank Bag'.

We will also be accepting donations (cash or cheque) for both the Canadian Youth National Fly Fishing Team and the Calgary Food Bank.

Tickets:

At the door: $20 (cash only)

In Advance: $17 (online only, VISA/MC)

At Fly Shops Only
Limited Number

EARLY BIRD tickets
$13 CASH ONLY
Until Dec 24
Perfect Stocking Stuffers!
Hurry in and grab your tickets today!

Limited Number of DISCOUNT Tickets ($15 CASH ONLY) available at:

Fish Tales Fly Shop
Country Pleasures Fly Shop
West Winds Fly Shop
Bow River Troutfitters Fly Shop
The Fishin' Hole
Iron Bow Fly Shop
Hanson's Fly Fishing Outfitters

SUPPORT YOUR LOCAL FLY SHOP
Limited seating

Previous Bow River Shuttles film screenings have sold out!
Don't be disappointed. Order your tickets today!

1. "Will Call" table for tickets will be just inside the lobby of the Cardel Theatre.
2. Valid photo ID is required for ticket pickup at "Will Call" table.
3. If you fail to pick up your tickets we shall not be responsible for this and your money will not be refunded.
4. Please arrive EARLY for best seat selection, and especially for "Will Call" tickets.
5. As a courtesy to other attendees, latecomers will be seated at the end of the first film.
_________________________________________________________________________________
SEVERAL BLUE RIBBON FILMS
Connectivity: The restoration of 40 Mile Creek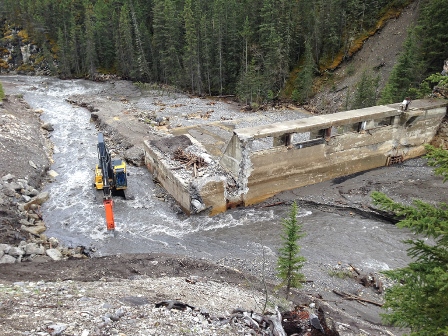 Photo, courtesy Banff.ca

2014 | Official Selection | Banff Mountain Film & Book Festival
"Showcasing the deconstruction of a local dam, "Connectivity: The restoration of 40 Mile Creek" opened for a packed house at Patagonia's "Damnation" during this year's Banff Mountain Film and Book Festival." - Highline Magazine
"The work we did with 40 Mile Creek was a nice fit with the film DamNation, a documentary about promotion of dam removal, mostly in the U.S.," said Chad Townsend, environmental coordinator for the Town of Banff. – Rocky Mountain Outlook
"While there are also threatened cutthroat trout living in the headwaters further upstream, the dam's removal is expected to have the greatest impact on Alberta's provincial fish: the bull trout, which is native to the area and a species of concern throughout Canada. We don't see as many cutthroat lower down, so the main species that we're looking at that I think has been prevented from accessing spawning habitat is the bull trout." - Bill Hunt, Banff National Park resource conservation manager , The Craig & Canyon
"There's all kinds of impacts associated with having that dam on that creek for all of these decades, not the least of which is preventing free movement of native fish species up and down the creek," Wendy Francis said. "Restoring the ability of native fish to move up and down is a really good thing." - Wendy Francis, program director for the Yellowstone to Yukon (Y2Y) Conservation Initiative, Rocky Mountain Outlook
_______________________________________________________________________________
Jungle Fish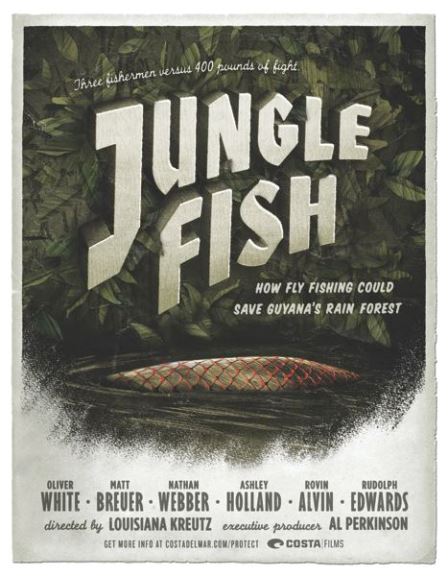 Three Fishermen, 400 Pounds of Fight:
"Jungle Fish" Ties Monster Fish to the Fate of a Culture
2013 | LightStay Sustainability Film Award | Sundance Film Festival
2013 | Special Screening |CARANA Corp/GTIS/USAID | Washington, D.C.
2013 | Special Screening |Texas Monthly | Austin, Texas
2013 | Official Selection | RISE Fly Fishing Film Festival
2013 | Official Selection | Idyllwild Cinema Fest
2013 | Official Selection | Fly Fishing Film Tour
"I loved it. Hell, I've watched it a dozen times now" - PileCast
"Mountain climbers have Mount Everest. Fly anglers now have the arapaima." – Kirk Deeter, Field & Stream
"Jungle Fish is unlike any angling film we've ever seen." – Venturing Angler
"How bad-ass is the Arapaima? …. I'd say the Arapaima is plenty bad-ass enough for you tough-guy outdoor types. Until recently, none had ever been caught on a fly rod, something one very cool sunglasses company sought to change… and not just for show, either." - Steve Bennett, Uncommon Caribbean
"Jungle Fish is engaging, entertaining and eventually very rewarding." - Yukon Goes Fishing
"Outstanding short film about establishing a sport fishing industry in Guyana for the giant Arapaima. It's like River Monsters without the unnecessary drama." – Strippers Online
"But it's the arapaima fishing that really makes this film a must-watch. Any fish that lives in pristine jungle streams, grows to 500lbs, and takes flies is a recipe for some unforgettable footage. The sheer power of these exotic beasts taking a fly is truly awesome!" - Scott Thomas, Fishing World
"Rating: 5 Stars. Costa should be commended on the video and the company's mission to protect the world's waters by promoting sport fishing." - Examiner.com
If trailer video does not appear above, please click this link: Jungle Fish

_________________________________________________________________

The Best of 'Catch Magazine'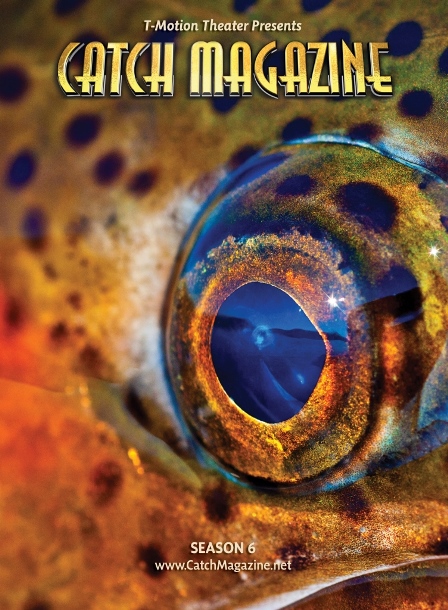 In the 6th season, Todd Moen travels to amazing fly fishing destinations, such as Argentina's Patagonia region, British Columbia's remote wilderness and Montana's backcountry, to film fly fishing at its very best. Moen uses his decade-old skills in rc technology.
2009 | Best Cinematography | Fly Fishing Video Awards
2014 | Official Selection | Wild & Scenic Film Festival

"The successful operation of any video equipment, during Mother Nature's moods and demanding conditions, from rain and snow to cold and darkness, requires days of preparation, a cool steady hand combined with the patience of a zen master and more than a smidgen of luck. Todd Moen's talents flow with an ease that belies the work beneath." – Val Atkinson
"Todd Moen films and edits the most creative, action packed and stunningly beautiful fly fishing videos in the world." - Martin Joergensen, Global Fly Fisher
If trailer video does not appear above, please click this link: Catch Magazine

__________________________________________________________________
Kiss The Water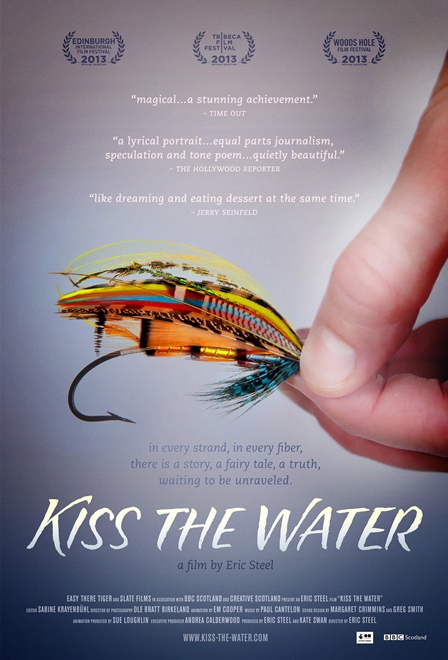 In a cottage in northern Scotland, Megan Boyd twirled bits of feather, fur, silver and gold into elaborate fishing flies --- at once miniature works of art and absolutely lethal. Wherever men and women cast their lines for the mighty Atlantic salmon, her name is whispered in mythic reverence, and stories about her surface and swirl like fairy tales.
With breathtaking cinematography and expressive, hand painted animation, KISS THE WATER adheres to and escapes from traditional documentary form, spinning the facts and fictions of one woman's life into a stunning film about craft, devotion, love, and its illusions.
2013 | Official Selection | Tribeca Film Festival
2013 | Official Selection | Woods Hole Film Festival
2013 | Official Selection | Hamptons International Film Festival
2013 | Official Selection | Edinburgh International Film Festival
2013 | Official Selection | Hot Springs Documentary Film Festival
2013 | Official Selection | Vancouver International Film Festival
" magical…a stunning achievement." - Time Out
"devastatingly luminescent..." - Eye For Film
"a lyrical portrait…equal parts journalism, speculation and tone poem…quietly beautiful." – The Hollywood Reporter
"Steel's finished film is a work of art in itself." – The Literary Flyfisher
Rotten Tomatoes: 86%
"Stands shoulder to shoulder with A River Runs Through It and Rivers of the Lost Coast, classic fly fishing films that are not just entertaining but truly works of magical storytelling" – Outdoor Hub
"Kiss the Water is like dreaming and eating dessert at the same time." - Jerry Seinfeld
"a documentary that takes one life of simplicity and creativity and turns it into something with a deep emotional resonance. No one knows why a salmon takes a fly, but in Eric Steel's gorgeous documentary, the 'why' suddenly becomes unimportant." - Kamera
"An elegant and fascinating delight, Kiss The Water is made with insight, intelligence and a painterly delight... atmospheric footage of Scotland at its most beautiful and Em Cooper's stunning animation" - Screen Daily
"Combining storytelling documentary and gorgeous painted animated sequences, Kiss The Water, directed by Eric Steel, captures the life and work of Megan Boyd, and recalls it like a legendary fable. A fondness for fishing may be needed to fully appreciate this film, but with over half the movie consisting of visually stunning animated scenes, anybody who appreciates art will find enjoyment." - William Brownridge, Toronto Film Scene
"Documentary masterwork! Kiss the Water is an elegiac and poetic documentary that takes a potentially indifferent topic – salmon fly fishing --and transforms it into the most beautifully wrought documentaries on the subject yet realized." - Wonders in the Dark
If trailer video does not appear above, please click this link: Kiss the Water