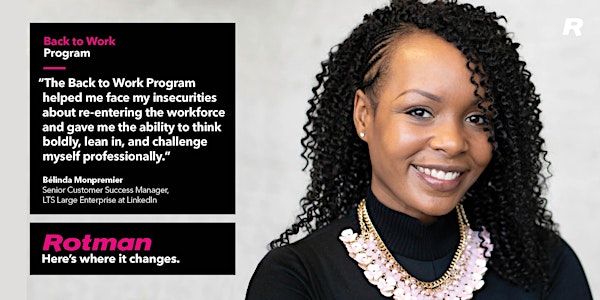 Back to Work Digital Info Session
Ready to relaunch your career after a break? Rotman has supported hundreds of women with returning to their careers. Join us to learn more.
About this event
The Initiative for Women in Business at the Rotman School of Management has connected hundreds of women with large networks after developing their job search strategy over the past 12 years of the Back to Work program.
Often women leave their successful careers to focus on family matters, personal health or other reasons. It can be challenging to look for a role after an extended break. People often ask, "How do I explain my gap?" "Are my skills still relevant?" "What if I don't have Canadian work experience?" That's where the Back to Work program comes in. Rotman's expert instructors and staff work with Back to Work program participants to create a specialized job search strategy and teach the skills needed to land a role in the current environment.
The Back to Work program has been offered online during the pandemic with excellent results. It will continue to be offered online with a few in-person sessions beginning in January 2023.
Join us to learn more at the Info Session on December 14th from 2:00 PM - 3:00 PM.