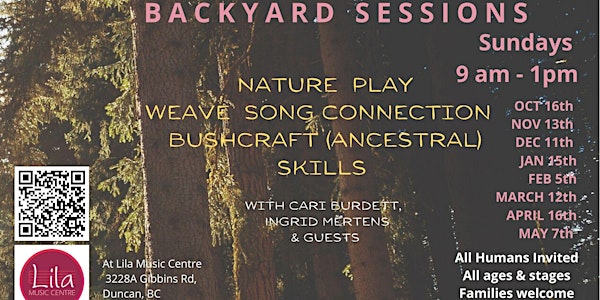 Multiple dates
Backyard Sessions - Nature Play, Once a month on Sundays
Sundays 9 am – 12 noon/1 pm
By Cari Burdett and Lila Music Centre are organizing this event.
Date and time
Sun, Oct 16, 2022 9:00 AM - Sun, May 7, 2023 1:00 PM PDT
Location
Lila Music Centre 3228a Gibbins Road Duncan, BC V9L 0E5 Canada
About this event
Sundays 9 am – 12 noon/1 pm
Oct 16th, Nov 13th, Dec 11th,
Jan 15th, Feb 5th,
March 12th, April 16th, May 7th.
9-10 Welcome/Gratitude/Awareness/Connection/Games
10- 11 Intro/teaching of skill share/harvest
11-12 Hands on making/creating/crafting
12 Closing circle
12-1 Stay linger to complete project/hang out/askQuestions
It is with deepest respect and gratitude that we ( Lila Music Centre, Cari Burdett and ingrid Mertens), recognize that we are living on this sacred stollen land, of the Quw'utsun, Coast Salish peoples. We honour the First Peoples who came before us and acknowledge their great teachings, skills and cultural practices created from the land that surrounds us. With utmost respect, we acknowledge the land skills, songs, foraging, medicine making, living skills and crafts that have been passed on for generations to the First Peoples and recognize that much of these cultural practices were stollen away from the First Peoples over the last centuries with genocide and colonization, and acknowledge it is still occurring in devastating ways everywhere. It is with an open heart and humble awareness, that we recognize our privilege as white settlers here in this Quw'utsun Valley and see the predicament of wanting to teach nature based crafts as white settlers.
With curiosity, we are returning to our cultural ancestral practices and connecting with the crafts and practices from these lands of our ancestors. Humbly and with great love, we wish to also practice skills of crafting, working with fire and plants and re connecting to the land around us for our own healing and the collective healing of this planet. We believe that everyone can find a deeper connection of self through their own deeper connection with nature. We want this to be a safe place of inclusion, where differences are met and accepted and that the cultural division can be acknowledged with humility and care for building our ways together in a healthy and caring way. We practice Nutsa'maat Sqwalawun, One Heart One Mind.
We hold a working allyship and relationship with local Quw'utsun Indigenous Elders and friends and are truly grateful to invite them to teach and share what they wish with us from their traditional Coast Salish ways. As settlers, we will focus on sharing the skills we have learnt of crafting/ creating with using what can be known as "invasive Plants" and local heritage plants that are found in the area, unless we have been given permission to share something of the local traditions with you.
Our first Class on October 16th, will include a permission ceremony, where we will ask publicaly at the gathering for permission to offer this skills, teachings and work on this traditional land of the Quw'utsun, Coast Salish Peoples. We are grateful to have Hwiemtun, Fred Roland, come to bless our work here at Lila Music Centre. All are invited to come and witness this blanket ceremony.
We created this humble offering to bring together a passionate diverse 'village' of all ages and stages, in the recognition that we can all learn to deepen our awareness and connection with nature.
Have you been inspired by nature and want to deepen your connection with the elements, meet others in the Quwut'sun Valley who also are keen to create with nature? Are you inspired to learn how to make cordage, weave baskets, make medicine with plants, work with the wonders of kelps, learn how to make fire by friction and work with wood?
We imagine us all gathering as a village, sipping tea from freshly picked wild harvested plants, crafting beautiful, simple, useful objects from nature, sharing stories, singing songs around a sacred fire. There will also be the invitation to play games, awaken our senses with exercises and sit spot, wonder to forage, build a shelter, create burn bowls and more…
This is for all families and individuals who wish to connect through nature with nature. Children under the age of 12 must be accompanied by an adult.
Pre Registration and payment required.
We need to know who is coming so we can prepare enough materials for everyone to be able to create their bushcraft. .
Please email Cari( at ) cariburdett.com
or text 250 710 – 4174,
for questions and last minute requests to join.
Materials fee will be added for certain projects.
No one ever turned away for lack of funds.
Scholarships available for trade support.
Please enquire – cari@cariburdett.com
Cost exchange:
$40 general fee
Children/ teens by Donation
Join all 8 months for $250 paid in full.
What to Bring:
Bring a snack, water, hat, solid blade knife, something warm to sit on – we will be outside!
We look forward to Creating and Connecting with you,
Cari Burdett, Ingrid Mertens & Guests
About the organizer
Lila Music Centre is dedicated at builing community through music, as well as bringing joy through music..