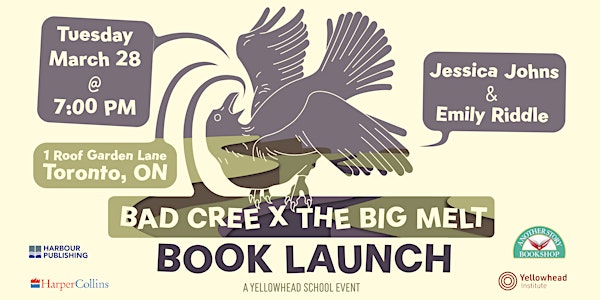 Bad Cree x The Big Melt book launch with Jessica Johns & Emily Riddle
The Yellowhead Institute and Another Story Bookshop present the in person launch for Bad Cree x The Big Melt.
By Another Story Bookshop
When and where
Date and time
Tue, Mar 28, 2023 7:00 PM - 9:00 PM EDT
Location
1 Roof Garden Lane 1 Roof Garden Lane Toronto, ON M6H 1R2 Canada
About this event
Join us for the event of the season!
Jessica Johns (Bad Cree) and Emily Riddle (The Big Melt) in conversation with Jas M. Morgan
Tuesday, March 28 at 7pm
1 Roof Garden Lane (a beautifully converted warehouse space at Northeast corner of Bloor and Dovercourt).
Free, all welcome. Masks are encouraged.
Food and drinks will be served.
Co-presented with the Yellowhead Institute. Yellowhead is an Indigenous-led research and education centre generating critical Indigenous policy perspectives. Learn more at yellowheadinstitute.org.
Access info: There are 3 steps to enter the mainspace; there is an alternative entrance via a garage with a portable ramp. Clearance for entering the event space is 27". There is a mainfloor bathroom.
About the books:
Bad Cree by Jessica Johns
Mackenzie, a Cree millennial, wakes up in her one-bedroom Vancouver apartment clutching a pine bough she had been holding in her dream just moments earlier. When she blinks, it disappears. But she can still smell the sharp pine scent in the air, the nearest pine tree a thousand kilometres away in the far reaches of Treaty 8.
Mackenzie continues to accidentally bring back items from her dreams, dreams that are eerily similar to real memories of her older sister and Kokum before their untimely deaths. As Mackenzie's life spirals into a living nightmare—crows are following her around and she's getting texts from her dead sister on the other side—it becomes clear that these dreams have terrifying, real-life consequences. Desperate for help, Mackenzie returns to her mother, sister, cousin, and aunties in her small Alberta hometown. Together, they try to uncover what is haunting Mackenzie before something irrevocable happens to anyone else around her.
The Big Melt by Emily Riddle
The Big Melt is a debut poetry collection rooted in nehiyaw thought and urban millennial life events. It examines what it means to repair kinship, contend with fraught history, go home and contemplate prairie ndn utopia in the era of late capitalism and climate change. Part memoir, part research project, this collection draws on Riddle's experience working in Indigenous governance and her affection for confessional poetry in crafting feminist works that are firmly rooted in place. This book refuses a linear understanding of time in its focus on women in the author's family, some who have passed and others who are yet to come. The Big Melt is about inheriting a Treaty relationship just as much as it is about breakups, demonstrating that governance is just as much about our interpersonal relationships as it is law and policy. How does one live one's life in a way that honours inherited responsibilities, a deep love for humour and a commitment to always learning about the tension between a culture that deeply values collectivity and the autonomy of the individual? Perhaps we find these answers in the examination of ourselves, the lands we are from and the relationships we hold.
About the authors:
Emily Riddle is Nehiyaw and a member of the Alexander First Nation (Kipohtakaw). A writer, editor, policy analyst, language learner and visual artist, she lives in Amiskwaciwâskahikan (Edmonton). She is the senior advisor of Indigenous relations at the Edmonton Public Library. Her writing has been published in The Globe and Mail, Teen Vogue, The Malahat Review and Room Magazine, among others. In 2021 she was awarded the Edmonton Artists' Trust Award. Emily Riddle is a semi-dedicated Oilers fan and a dedicated Treaty Six descendant who believes deeply in the brilliance of the Prairies and their people.
Jessica Johns is a nehiyaw aunty with English-Irish ancestry and a member of Sucker Creek First Nation in Treaty 8 territory in Northern Alberta. She is an interdisciplinary artist and award-winning writer.
Dr. Jas M. Morgan is a Toronto-based Cree-Métis-Saulteaux Assistant Professor in Toronto Metropolitan University's Department of English. Morgan holds a Canada Research Chair in Digital Wahkohtowin and Cultural Governance. Morgan is the Director of Cultural and Heritage at Yellowhead Institute and the Facilitator for the Digital Wahkohtowin & Cultural Governance Lab. Morgan's research focuses on the development of film and digital media archives as a mode of Indigenous-governed heritage formation. They are the Executive Producer of KIN, a web series about Indigenous queer and trans peoples living in the city.
With thanks to Harper Collins Canada and Harbour Publishing