About this event
Bad Thursday 2022
w/ The Perpetrators & Fu Fu Chi Chi Choir
The Park Theatre
Thursday, April 14th, 2022
Doors 7 pm | Show 8 pm
Tickets $20 adv
The Perpetrators front-man and founding member Jay Nowicki is rated one of Canada's tastiest guitar players. Together with the "meat-and-mashed-potatoes" rhythm section of Ken McMahon and John Scoles, they deliver a tight, raw and intense blues experience that is sure to make you get up and shake it.
The Perpetrators' albums have garnered WCMA awards and Juno nominations. Their ability to stay grounded to their Winnipeg roots, coupled with the raw energy and extreme talent makes this one of the best groups to come out of Canada.
The Fu Fu Chi Chi Choir is a ten-piece alt-folk band hailing from Winnipeg, Manitoba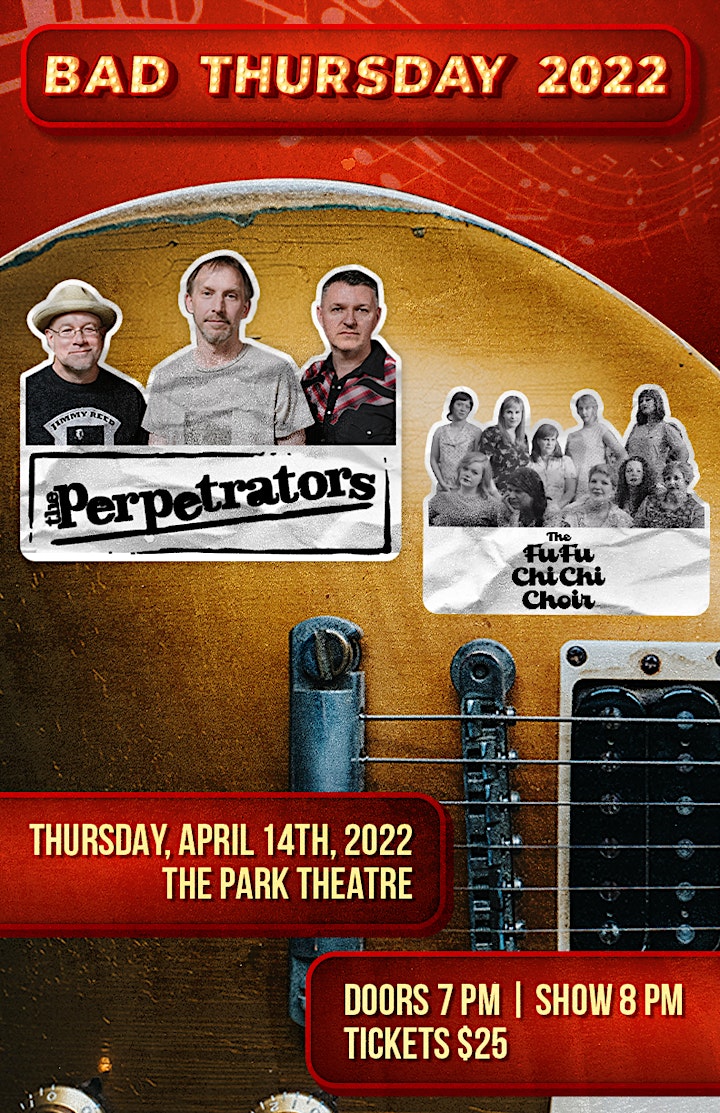 Organizer of Bad Thursday 2022 w/ The Perpetrators and Fu Fu Chi Chi Choir
The Park Theatre, now in its fifteenth year of operations and has grown into one of Winnipeg's premier live event venues. With over 300 events a year spanning music, comedy, theatre, and film, the room has become home to an expansive community of artists.
In 2014 The Park Theatre was awarded "Venue of the Year" at the Western Canadian Music Award's, after being nominated for the same award in both 2012 and 2013.
The venue itself is a renovated movie theatre that opened in the fall of 1915. While many of Winnipeg's neighbourhood theatres have been demolished or "repurposed" into bowling alleys or retail stores. The Park managed to hold out for 73 years before fate caught up with it. After sitting vacant for nearly a decade it was revived into what is now one of Winnipeg's most popular live music venues.
With its high-quality sound, great atmosphere, two full-service bars, and premier live entertainment from local acts to international touring artists, it's no wonder that artists and audiences alike keep coming back.