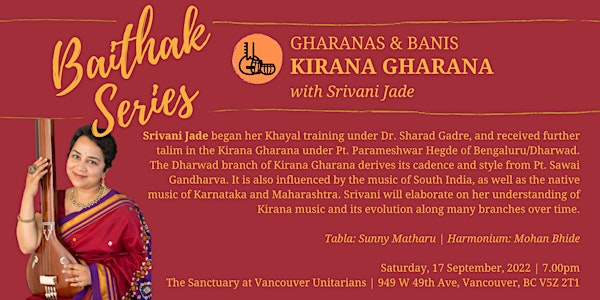 Baithak Series: Kirana Gharana with Srivani Jade
Srivani Jade presents an Indian classical vocal recital exploring the music and evolution of the Kirana Gharana.
When and where
Location
Unitarian Church of Vancouver 949 West 49th Avenue Vancouver, BC V5Z 2T1 Canada
About this event
About this event
Baithak Series is a thematic concert series aimed at presenting esoteric topics on Indian classical music in an engaging and accessible manner. Baithaks, essentially chamber concerts, are a traditional way of presenting Indian classical music to create an intimate connection between the audience and the artist through smaller venues with both floor and chair seating. Each program begins with a curated concert where the artists walk the audience through the theme through musical repertoire and knowledge-sharing. This is followed by an open-floor question and answer session between the audience and the featured artists. The current theme, Gharanas & Banis, explores these socio-musical lineage systems which are prevalent across Indian classical music traditions and tries to address the role they play in contemporary music-making.
Srivani Jade was born and raised in India. She started her Indian Classical Music training at the age of four, and started performing on radio and stage soon after. She began her Khayal training under Dr. Sharad Gadre in a very badhat-oriented style. This laid the foundation for further talim in the Kirana Gharana under Pt. Parameshwar Hegde of Bengaluru/Dharwad. The Dharwad branch of Kirana Gharana derives its cadence and style from Pt. Sawai Gandharva of Kundgol, teacher to Vid. Gangubai Hangal, Pt. Bhimsen Joshi and Srivani's Dada-Guru Pt. Basavaraj Rajguru, among others. It is also influenced by the music of South India, as well as the native music of Karnataka and Maharashtra. Srivani will elaborate on her understanding of Kirana music and its evolution along many branches over time.
Joining Srivani on stage are local musicians Sunny Matharu on Tabla and Mohan Bhide on Harmonium, as well as Srivani's student Spandana Battula on Tanpura and Vocal Accompaniment.
____________
Tickets
Friends of ICMSV Subscription:
Members of our Friends of ICMSV subscription program are not required to purchase tickets for this event. Please keep an eye on your inboxes for your tickets. Subscription packages are no longer available for purchase for our 2022 season.
Individual Concert Tickets:
Gives you access to this concert only at our regular admission cost. Early birds - use code 15OFF at checkout for 15% off your ticket before August 31!
Please send us an email (info.icmsv@gmail.com) if you are unable to attend the concert due to financial barriers. We have a limited amount of supportive tickets available.
____________
Venue:
The Sanctuary at Vancouver Unitarians is located at the north-east corner of Oak Street and 49th Avenue, and is the building to the left. All areas are wheelchair accessible.
Bus routes 17 and 49 both have stops at 49th Ave and Oak Street. The nearest sky train station is at Cambie and 49th. A five-block walk or take the 49 bus. If walking, turn on Fremlin to enter from the East side.
The parking lot has capacity for 49 cars including 2 designated accessibility/disability spots. There are 3 bike racks for a total of 24 bicycle spaces. Parking is also available along Oak Street.
____________
( I C M S V )
icmsv.org
facebook.com/icmsv
IG: @icmsvancouver
YouTube: bit.ly/3p5oTeH