Location
Canadian Museum for Human Rights
85 Israel Asper Way
Winnipeg, MB R3C 0L5
Canada
Join us in honoring all the martyrs and victims of human rights violations during the martial rule of ousted dictator, Ferdinand Marcos, Sr.
About this event
The Philippine-Manitoba Historical Society, Inc. (PMHSI) proudly present "Balik-Tanaw: Martial Law at 50" (Looking Back: Martial Law at 50) – a special event commemorating the 50th anniversary of the declaration of military rule by former President Ferdinand Marcos, Sr.
This momentous event will take place on Friday, September 23, 2022 at the Canadian Museum for Human Rights (CMHR) at 85 Israel Asper Way, Winnipeg, Manitoba.
This free whole-day event will feature a martial law exhibit, a film showing (the SHOWTIME® documentary The Kingmaker), and a cultural night.
One of the highlights of the event is the participation of Ms. Marichu Antonio, a martial law victim and survivor, as our guest speaker. Antonio was the recipient of 2020 Calgary's Citizen of the Year Award, as well as the Queen's Jubilee Medal in 2017.
During the full implementation of martial law under the Marcos regime, several institutions and media outlets were closed down, officials and citizens were arrested, and activists were tortured and/or killed.
Based on the documentation of Amnesty International, Task Force Detainees of the Philippines, and similar human rights monitoring entities, historians believe that the Marcos dictatorship was marked by 3,257 known extrajudicial killings, 35,000 documented tortures, 77 'disappeared', and 70,000 incarcerations.
Martial law officially ended January 13, 1981 while Marcos remained in office until the historic and peaceful EDSA People Power Revolution in 1986.
Remembering Martial Law in the Philippines has always been a challenge, primarily due to the failure of the educational system, and the battle for memory in social media – where massive disinformation, historical distortion and pro-Marcos videos abound in social media.
The challenge of remembering this critical period in Philippine history has never been greater, especially in this age of social media and pandemic. But the challenge must be faced, both for historical accuracy and justice.
Having said that, we hope that this initiative would spark conversations in our communities so that the younger generations learn about the past and work together to protect our history and democracy.
Philippine-Manitoba Historical Society, Inc., a Filipino-Canadian non-profit organization based in Winnipeg, Manitoba, aims to fight massive disinformation and historical distortion by providing their communities access to historical facts and research-based resources.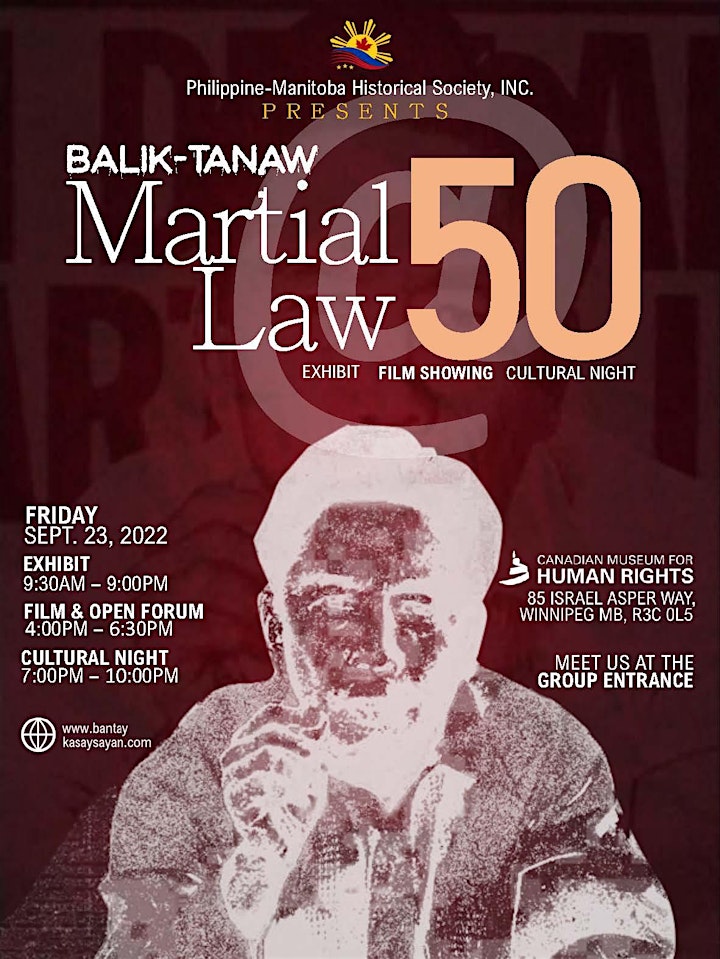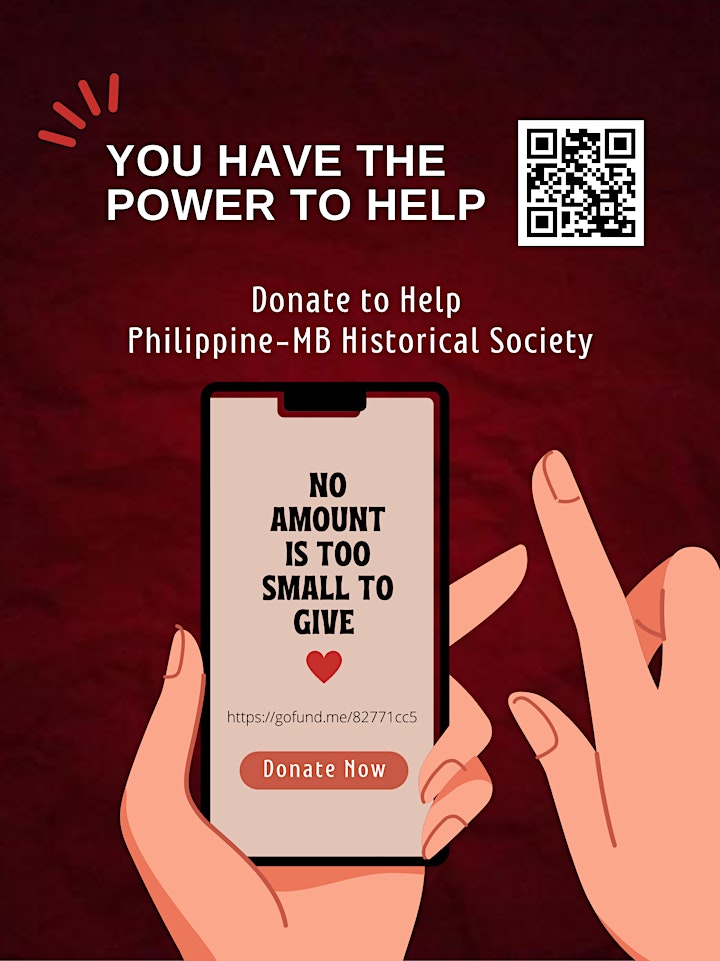 In this time when social media heavily influence historical perspectives, this event seeks to provide an academic approach that will spark conversations and promote critical thinking in our youth and community members. We would appreciate it if you could join and support us at this event.
To ensure the success of this event, we are actively seeking financial support from the community. We wish to ask for your help by donating any amount to our organization.
As a community donor, your donation will help us cover the costs of hosting this event and support future programs and initiatives in our communities. In our souvenir program, we will also include your name on our "Community Donors" page.
Please click this link to donate, or send an e-transfer to philmbhistoricalsociety@gmail.com.
We look forward to welcoming you on September 23rd and thank you in advance.