Description
On September 20th at 7pm join us for an amazing Performance & Party Night!

Mingle with great artists and other creatives in a night full of Brindis, Arte, Música.

Admission is pay-what-you-can at the door.

Featuring:

Carolina Brown (see bio below and Instagram: @Imbrownmusic):
Spoken Word Open Mic
Interactive Art Installation of a Latin American Map by Yamari Martin-Halsall.
Enjoy $8 Tacos, Empanadas and Ceviche from La Bella Managua Restaurant. $5 drinks include mojitos and caipirinhas. Proceeds support Casa - Pueblito, a nonprofit with the vision for compassion and social justice across borders. There will be delicious food from La Bella Managua, fantastic music and great drinks.
Everyone is welcome - Nos Vemos!
Carolina Brown is a Nonbinary Transgender Performance Artist, singer-songwriter, and maker of experimental ambient post-rock sounds. Writer, spoken word artist, storyteller, fierce advocate for QTI2S BIPOC liberation, Carolina's stories are raw, at times uncomfortable, but nevertheless always human, always beautiful.

BAM: Brindis, Arte, Música. is a project of Casa-Pueblito. Our vision is compassion and social justice accross borders. Visit www.casapueblito.org .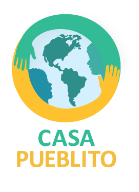 Many thanks to our BAM Founding Sponsor Meridian Credit Union