Description
From September 16th to the 22nd join us at BAM 2018 and experience a remarkable and thought-provoking exhibition by artists of Latin American heritage on three themes: Solidarity, Roots Revival and Gender Freedom.
Connect with Toronto's Latin American community through art, music and spoken word. Everyone is welcome! The Exhibition is open to the public everyday from 9am to 9pm and is free. For more info visit http://www.casapueblito.org/bam-2018/
BAM Activities:
Opening Reception: September 16th, 4:00pm-6:00pm. Click here for more info
Art Installation and Creation Workshop: September 16th, 1:30pm-3:30pm.
Prior to the Opening Reception, workshop with textile artist denirée isabel mendoza to create Protection Circle. Click here for more info and to register.
Performance & Party Night: September 20th, 7pm - 10pm. Stay tuned!
Featured Artists (find out more here):
Andrea Bermúdez

Mariana Bolaños!

Jasmine Cardenas

Vero Díaz

Andre López

denirée isabel mendoza

Camila Salcedo Guevara

Claudia Arana

Mao Correa

OLAS York Univeristy Art Installation

SickMuse Art Projects
BAM is a project of Casa-Pueblito. Our mission is to facilitate community development and intercultureal learning with a focus on youth in Canada and Latin America. Our vision is compassion and social justice accross borders. For more info visit http://www.casapueblito.org/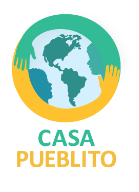 Many thanks to BAM Founding Sponsor Meridian Credit Union