Description
Date: Sunday, Feb. 10, 2019
Meet: at the Banff Train Station/Tourism Information Centre at 4:45am (Sunrise is at 8:04am)
Start/Finish: at the Banff Train Station at 7:15am - 6:00pm - Tour is ~ 11 hrs long
Sunrise and Sunset: Sunrise is at 8:04am and Sunset is at 5:49pm
Parking: Free parking is available at the meeting location. Refer to map for location information.
Lunch: Lunch platters and bottled water are provided.
# of Guests: 8 photographers maximum
Pro Photography Leaders: Aaron Dowling and Brian Merry
Cost: $295 + GST; ILPA members will recieve a $50 refund on their tickets. ILPA members, please contact me immediately after registering and at least 48 hours before the start of the tour to receive your $50 refund. ILPA discounts aren't redeemable after 48 hours before the tour starts. Visit http://internationallandscapephotographers.com/join-ilpa/ for ILPA membership details if you would like to become a member of ILPA.
Refund Policy: No refunds or ticket transfers.
Transportation: Provided via a commercial vehicle legally licensed and insured to operate in Banff National Park.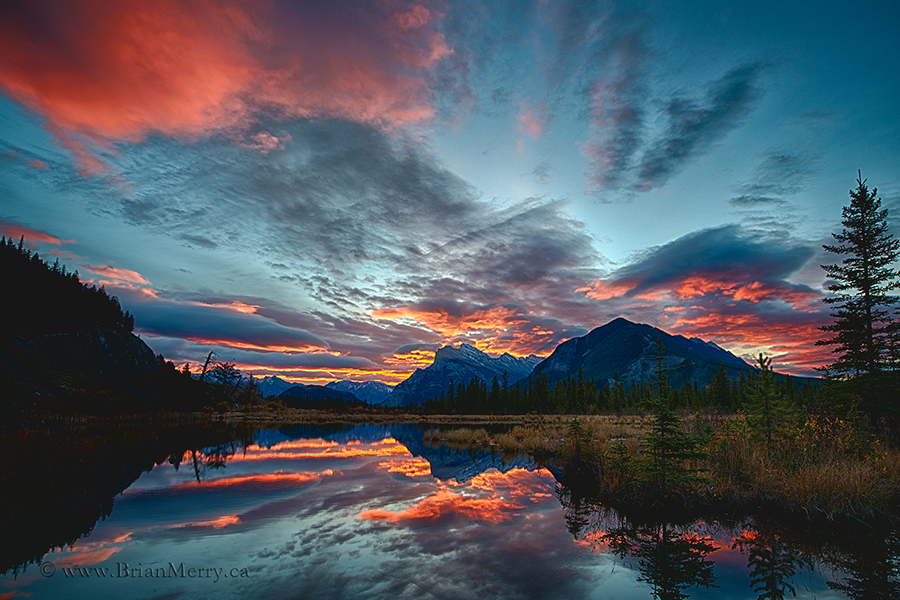 Your guides:
Brian Merry is a 22 year veteran professional landscape photographer based in Banff, AB, President of the International Landscape Photographers' association, acredited member of the Professional Photographers of Canada and a member of the International Guides' Association.
Aaron Dowling is a multi-decade experienced and World travelled outdoor photographer living and working here in the Rockies. Aaron is a multiple national award winning photographer in Australia. We are lucky that he has now permanently relocated to Canmore Alberta. IMO, professional Outdoor photography in the Rockies got a little better the day he started to call them home.
Note: Please arrive at the Banff Train Station before 7:15am to allow enough time to read, accept and sign the release of liability waiver. After the waiver is completed we can start the tour. We'll head out to the sunrise location in time to catch the sunrise after signing the waivers. Fingers crossed for good weather and a world class sunrise!
Tour Description
Introduction:
The Banff National Park Landscape Photography Day Tour is one of my most popular outdoor photography tours. I've been hosting it since 2007. It's long success is a testament to it's value and quality.
It's no secret that Banff National Park is one of the most beautiful places in the world. It's presence on the UNESCO world heritage's list for the environment, together with Jasper, Yoho and Kootaney National Parks is not a coincidence. The Canadian Rockies are one of the most beautiful places in the world. I feel fortunate to have been calling them my home since 1996. And, Aaron and I thoroughly enjoy sharing our home with other like minded photographers.
The Banff National Park Day Tour:
Aaron and I will use our intimate knowledge of the area gained through decades of professional photography experience, and my intimate experience of living and photographing in these mountains for 23 years to take you to the best locations for landscape photography on the day of the tour. I'm confident that we'll find beautiful landscapes to photograph no matter what the weather is on the day of the tour. Banff is beautiful.