Banff National Park Winter Landscape Photography Weekend Tour 2019

Friday, 8 March 2019 at 6:15 AM

-

Sunday, 10 March 2019 at 7:15 PM (MST)
Event Details
Start:  March 8 at 6:15 am in Banff (sunrise in Banff is at 7:11 am)
End:  March 10 at 7:45 pm (sunset in Banff is at 7:38 pm)
Meeting place:  The Banff Railway Station, 327 Railway Ave., Banff, AB
I can pick you up at your Banff hotel too.  Please contact me after registering for the tour to arrange for me to meet you at your hotel.
Location:  Between Banff and Jasper along the Icefields Parkway in the heart of the Canadian Rockies!
Tickets:  $1195.00 + GST – ILPA members receive a $100 refund on their registration (ILPA members should contact Brian Merry to receive their $100 refund after their registration process is complete.  Refunds are not available after the event has started.  Contact me early please!)
Transportation:  **Included** We will be travelling together in the same vehicle.
Accommodations:  Included at Lake Louise Inn
What's Included:  Meals, accommodations, transportation, evening presentations and field instruction
What's not included:  Items of a personal nature
Visit http://internationallandscapephotographers.com/join-ilpa/ for ILPA membership details if you would like to become a member of ILPA.
Refund Policy:  No refunds.
Transportation:  Provided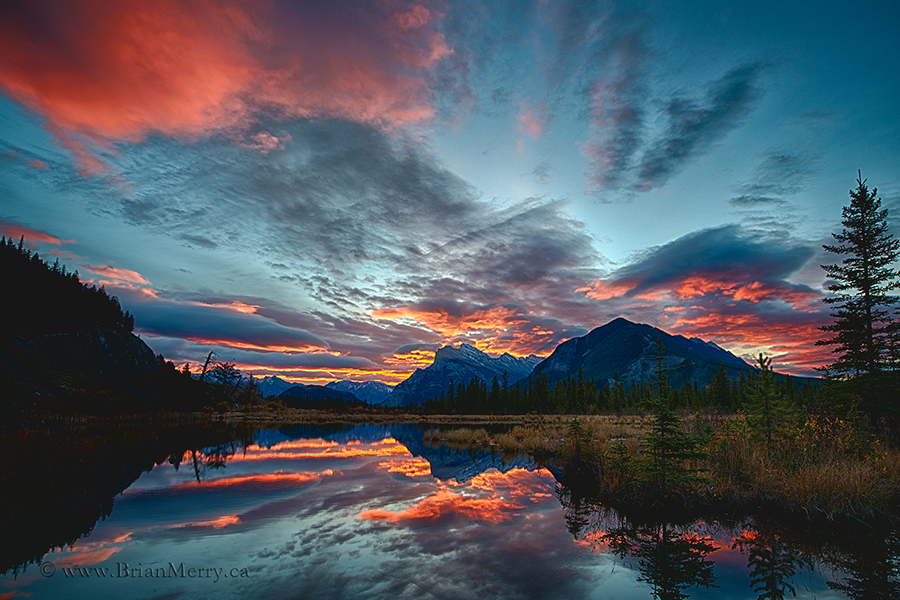 Your guide:  Brian Merry, a 22 year veteran professional landscape photographer based in Banff, AB, President of the International Landscape Photographers' association, acredited member of the Professional Photographers of Canada and a member of the International Guides' Association.
Note:  Please arrive at the Banff Train Station before 6:15am to allow enough time to read, accept and sign the release of liability waiver.  After the waiver is completed we can start the tour.  We'll head out to the sunrise location in time to catch the sunrise after signing the waivers.  Fingers crossed for good weather and a world class sunrise!
Tour Description
Introduction:
The Banff Landscape Photography Winter tour is a weekend of intensive shooting and learning.  The emphasis of this event is on living a pro landscape photographers' life during an intensive weekend of shooting day and night during the field workshop.  The only exception to living the pro landscape photographers life is that we'll be staying in comfortable hotels and dining in restaurants for Breakfast and Supper.  Packed lunches are provided.  Join me as I host a loaded weekend of nature photography for you.
I'll use my intimate knowledge of the area gained through my 22+ years of professional photography experience here, and living here in these mountains to take you to the best locations for landscape photography during our field shooting sessions.  I'm confident that I'll find beautiful landscapes to photograph no matter what the weather is on the day of the tour.  And then we'll editing back in the classroom in Lake Louise.  Banff is beautiful.  Let's immerse ourselves in this intensive weekend of learning.
Visit the webpage for a full description of the tour.  Please call me too if you have any questions at 403  763 1114.
Have questions about Banff National Park Winter Landscape Photography Weekend Tour 2019?
Contact Brian Merry
When & Where

Banff Railway Station
327 Railway Ave.
Banff, Alberta T1L 1A2
Canada

Friday, 8 March 2019 at 6:15 AM

-

Sunday, 10 March 2019 at 7:15 PM (MST)
Add to my calendar
Organizer
     Brian Merry is originally from the beautiful province of Nova Scotia and has been living and working as a professional photographer in spectacular Banff, Alberta for more than 20 years.  He moved to Banff after graduating from Acadia University earning a BSc. with honours in biology in 1996 and has been living in the Canadian Rockies ever since.  He started in landscape photography in the 1980s in Nova Scotia after getting his first film SLR camera for Christmas from his parents and he hasn't looked back since that fateful day.  
     Brian is a published writer/photographer in;  Outdoor Photography Canada with a feature article, Kootaney Mountain Culture Magazine, multiple articles in the Canadian Alpine Journal.  He's also been published in numerous reputable blogs writing about the relationship between composition, landscape photography, wildlife photography and achieving emotional communication through your photographs.  His own blog is ranked in the top 5 outdoor photography blogs in Canada.  Brian is also the publisher and editor of the ILPA Landscape and Wildlife Photography Weekly newsletter.  You can read the ILPA weekly newsletter by clicking on the blue link.
     Brian professional photographer career since 1997 and has focused primarily on leading tours and workshops.  He is a Professional Apprentice Hiking Guide with the International Guide's Association and he is the President of the International Landscape Photographers' Association.  Brian continues to travel, photograph and write on all aspects of outdoor photography while developing new tours and workshops across Canada and in various countries around the World, including Japan.  He does all of this while trying hard to be a good husband!
Brian's Teaching Qualifications:
     Brian is the president of the International Landscape Phitographers' association, ILPA, and an accredited nature photographer with the Profesional Photographers of Canada.   He's also earned a BSc. with honours in Biology from Acadia University where he worked as a lab instructor for various biology courses while concurrently earning his honours biology degree.  Brian is a certified NFPA professional instructor with 5 years of professional teaching experience at Lakeland College in their professional fire fighting program in Vermillion, Alberta.  Brian also leads the organizational and production teams hosting the ILPA Landscap Photography Summit, Canada's first, and still only pure ourdoor photography conferenc.  Finally, he's also been leading and teaching landscape photography workshops, tours and seminars since 2007.  Teaching and photography are two of his greatest passions in life, along with mountain and rock climbing.
     You can learn more about Brian and see some of his work on his website or you can call him at 1-403-763-1114.