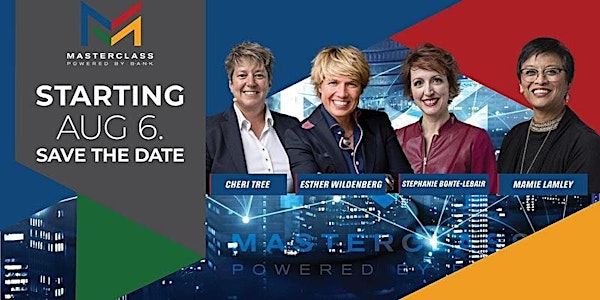 BANK Masterclass 4-Week Series: A Priceless Gift For You and Your Team!
BANK Masterclass 4-Week Series: A Priceless Gift For You and Your Team!
About this event
About this Event
Are you ready to THRIVE in 2020? We are excited to offer up a powerful 4- week Master class for just $1. (additional link to be sent after registration).We will introduce you to our 6 BANK Intelligences that help you show up powerfully in both your business and personal life.
1. Personality Intelligence -Identify people's personality and values so you can meet them where they are and create faster connections that create influence.2. Sales Intelligence - Apply personality science to the sales process to get more Yeses and fewer Nos.
3. Emotional Intelligence - Regulate your own emotions and have more empathy for others to mitigate conflict and enrich you life.
4. Artificial Intelligence - Analyze communication with our Artificial Intelligence and predict buying behavior in nanoseconds.
5. Business Intelligence - Track important data in your business so you can save time and make better marketing and business decisions.
6. Spiritual Intelligence - Clearly define the purpose for your life and business and apply it in every interaction so that you are following your divine calling.
Your ticket includes a choice of several powerful Tools to help you communicate, negotiate and close more sales. Choose one or all of them. They are included in the $1 registration for 30 days.BANKPASS - Lead Generation Tool that cracks unlimited BANKCODEs of your prospects.
CODEBREAKER AI - proprietary Artificial Intelligence that analyzes any copy, including LinkedIn profiles with the click of one button, and allows you to speak someone's language in the moment.BANKVAULT - over 50 hours of virtual training in the BANK methodology, including training in how to network more effectively, powerful sales skills, real estate specific strategies, and training for people in network marketing.
Mark your calendar with the following dates. All Master Classes will be recorded and made available to you, as long as you're registered.
THE MASTERCLASS SCHEDULE :August 6, 2020 at 6-7:30 pm CentralAugust 13, 2020 at 6-7:30 pm CentralAugust 20, 2020 at 6-7:30 pm CentralAugust 27, 2020 at 6-7:30 pm Central
ALL OF THIS FOR JUST $1. After you register on Eventbrite, I will send you a special LINK to sign up for the tools and access to the Master Class for $1.We are in PRELAUNCH for this Masterclass. Because we want your access to the tools and training to coincide with the August Masterclass, you'll receive a Link for access toward the end of July. You'll be asked to pay $1 when you register on that link.