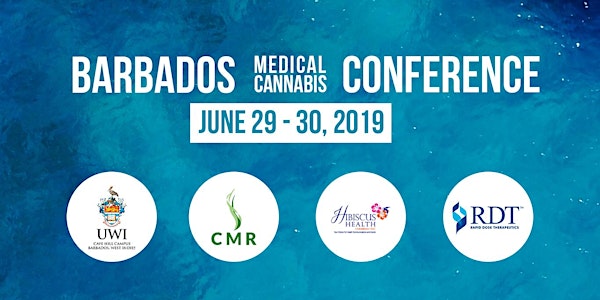 Barbados Medical Cannabis Education Conference
Medical education on the use of cannabis in medicine; local and international medical cannabis experts. CPE credit available.
When and where
Location
Errol Barrow Centre for Creative Imagination University of the West Indies Cave Hill Bridgetown, Saint Michael 12345 Barbados
About this event
Cannabis Management Resources in partnership with the Faculty of Medical Sciences, University of the West Indies at Cave Hill invite you to the
BARBADOS MEDICAL CANNABIS CONFERENCE
Saturday, 29 June 2019, 9AM-5.15PM
Sunday, 30 June 2019, 11AM-5.15PM
New Location: Walcott Warner Theatre, Errol Barrow Centre for Creative Imagination, UWI, Cave Hill, St. Michael
About the event:
This two-day event features some of the top Cannabis experts from around the world with the goal of educating and advocating about the benefits and safe us of medical cannabis. Speakers include local & international medical professionals, security consultants, patient advocates & others. Topics include: paediatric applications of medical cannabis, addiction and cannabis therapy, cannabis use in geriatric medicine and sports medicine, evidence-based medical trials, patient cases, exploring legalization and more.
This is a FREE EVENT. Registration is a must. No registrations will be taken at the door.
Target Audience: Day 1 (June 29) is especially designed for medical professionals, researchers, academics and professionals in similar areas.
Day 2 (June 30): general public, interested persons. CPE credit will be available on both days.
Guest Speakers:
Dr. Mike Hart, Cannabis Physician, USA
Dr. Marni Brooks, Family Physician - Cannabinoid Medicine
Dr. Michael Verbora, Cannabinoid Physician, Canada
Ashleigh Brown, CEO, SheCann Cannabis, Canada
Jodie Epstein, Founder, MigraineBuds
David Hyde, Security and International regulations expert, UK
Shlomo Bookin , Master Grower and Horticulturalist, Israel
Kristina Shea , Marketing Manager Rapid Dose Therapeutics , Canada
Mark Upsell, CEO Rapid Dose Therapeutics, Canada
Steve Naraine, Genetic Research , Canada
Local speakers:
Dr. Damian Cohall, Deputy Dean (Pre-Clinical), FMS
Dr. Harley Moseley, Physiatrist & Pain Specialist
Dr. Judith Nicholls, Pain Specialist & Anaesthesiologist
Douglas Trotman, Attorney-at-Law
Sarah Seale - Managing partner Cannabis Management Resources Inc
Registration & Programme Info:
https://barbadosmedicalcannabisconference.eventbrite.com
More Information:
Hibiscus Health Caribbean Inc.
hhccmeevents@gmail.com; 246-269-6183/ 253-9384
Day 1 – Saturday, 29 June 2019, 9.00AM-5.15PM
Main target: medical professionals, health professionals, researchers, scientists
CPE credit available
Programme:
9:00am Introduction and Welcome - University of the West Indies
9:15am Keynote
10:00am The role of UWI in the development of the Medical Cannabis Industry
10:20 am The Pharmacology of Medical Cannabis -Dr. Damian Cohall
10:35 am Pediatrics and Cannabinoids - Dr Michael Verbora
11:10am Break
11:20am Setting up a Medical Cannabis Framework in the Caribbean -Panel
Dr. Harley Mosely, Dr. Judith Niccolls , Dr. Damian Cohall, David Hyde , Shlomo Bookin
12:00 p.m. Cannabis & Community- Hope, Healing, and the Impact on Women– Ashleigh Brown, Shecann
12:30-1:30pm Light Lunch featuring Entertainment by David Kirton
1:40pm Sport Medicine and Cannabis – Dr. Mike Hart
2:20 pm Dispersal methods for Medicinal Cannabis - Rapid Dose
3:00pm Coffee Break
3:15pm Migraines and Cannabis- Jodie Epstein, MigraineBuds
3:45pm Round table discussion and Q&A from the medical community -Panel Dr. Judith Niccolls , Dr. Harley Mosely, Dr. Damian Cohall, Ashleigh Brown, Jodie Epstein , Rapid Dose Therapeutics
4:30pm Thank you
Day 2 – Sunday, 30 June 2019, 11.00AM-5.15PM
Target: general public
CPE credit available for medical professionals in attendance.
Programme
11:00 am Introduction to the Cannabis Industry - Sarah Seale
11:15 am The role of UWI in Public Education and Training for the Medicinal Cannabis Industry - Dr. Damian Cohall
11:45 pm Educational Courses for Medical practitioners and Pharmacists - Dr. Judith Niccolls
12:05 pm What is Medicinal Cannabis ? Panel - Jodie Epstein, Ashleigh Brown, Dr. Marni Brooks , Dr. Harley Mosely , Dr. Judith Niccolls
12:45 pm The Patient Experience: Challenges & Success in the Search for Relief - Jodie Epstein, MigraineBuds
1:05 pm Coffee Break
1:15 pm Pediatric Medicine and Cannabinoids - Dr. Marni Brooks
1:30 pm Global legalisation – Douglas Trotman,David Hyde and Shlomo Bookin
2:15 pm Dispersal methods for Medicinal Cannabis - Rapid Dose
3:00 pm The Story of SheCann: Empowering Women through Medical Cannabis
- Ashleigh Brown SheCann
3:30 pm Health , Wellness and Cannabis - Dr. Mike Hart
4:15 pm Q&A - Panel
5:00 pm Thank you
#bimcc2019 #medicalcannabis #legalization #medicine