Barefoot Healing: A Workshop with Sue Kenney

Sunday, July 8, 2012 from 10:00 AM to 4:00 PM
Event Details
Barefoot Healing
A Workshop with Sue Kenney
Would you like to discover the healing powers of going BAREFOOT? Not only will you improve your balance and flexibility, there's a possibility you can help your body to heal itself.  In the book EARTHING, Clinton Ober talks about how grounding can contribute to a natural healing process. Our bodies are electrically conductive and the influx of negatively charged electrons received through direct contact with the earth neutralizes positive free radicals and the result is that it reduces inflammation in the body.
Wearing shoes has cut us off from this incredible gift the earth has to offer. Learn how you can integrate this forgotten component of a holistic approach to everyday life. It's organic and it's right under our feet!
Workshop Info
Date: Sunday July 8, 2012
Time: 10:00 am to 4:00 pm
Place: The Waterview Space 125 Dunlop St E in Barrie 10:00am to 4:00pm
Cost: $95.00 plus hst in advance ($105.00 plus hst at the door) or by donation.
For more info call 705-826-4641 or email mycaminobook@gmail.com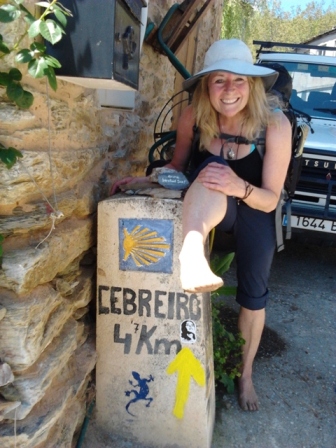 Sue's Bio Sue Kenney is a storyteller and the author of the best selling book, My Camino. As a pilgrim, she has walked the Camino de Santiago in Spain 9 times covering over 4000 kilometers. Sue began her barefoot journey in July 2011, wearing minimalist footwear. One month later she kicked off her shoes and she's been researching and studying the physical, spiritual and healing effects of being barefoot ever since. Today Sue can be seen walking/running barefoot, even in the snow. Sue led a group in May 2012 on the Camino and walked all 225 kms barefoot.
When & Where

The Waterview Space
123 Dunlop Street East
Barrie, Ontario L4M 1A6
Canada

Sunday, July 8, 2012 from 10:00 AM to 4:00 PM
Add to my calendar
Organizer
Sue Kenney is the creator and leader at My Camino Journey. She is a world renowned speaker and expert pilgrim who has walked the route from St Jean Pied de Port to Santiago twice, the English Route, the Portuguese Route and has walked to Finisterra and Muxia.  She has led 12 groups, and has directed a documentary film about the Camino called Las Peregrinas and has written 2 books. She  is renowned for her work as a storyteller, speaker, author, coach and workshop facilitator who uses the Camino as a metaphor for a life journey. Her best-selling book My Camino is development as a feature film and she co-wrote the screenplay. Her second book walking the Portuguese route is called Confessions of a Pilgrim. She walks every day, mostly barefoot now. Sue has been recognized in Spain as someone who has had an effect on the increase of pilgrims from North America who are walking the Camino.  Sue is a Level 2 Rowing Coach, a Level 2 Reiki practitioner, a trained reflexologist and she has been a life coach for 10 years. She is the inventor/designer of a new style of barefoot footwear called Barebottom Shoes that was pitched to the hit CBC TV show Dragons' Den.