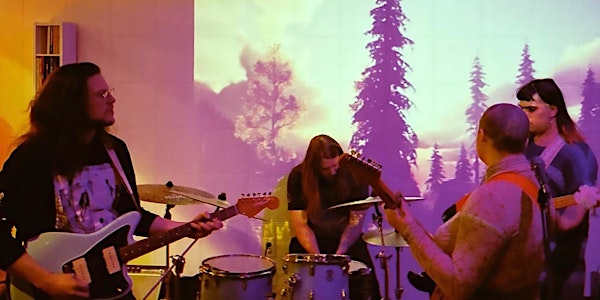 Basement Revolver
Ages 19+
Mills Hardware Presents
Basement Revolver with guests Laveda — Live at Mills Hardware!
Date and time
Sat, Apr 1, 2023 8:00 PM - 11:00 PM EDT.
Location
Mills Hardware 95 King Street East Hamilton, ON L8N1A9 Canada
Performers
Headliners
More Performers
About this event
3 hours

Ages 19+

Mobile eTicket
In 2020, the world stopped but Basement Revolver never really did: songs were written and recorded, a band member left, and another came to replace them. But, they couldn't tour or rehearse or record in the usual way. The gap between making work, and being alone, resulted in serious introspection for the band. Their new album is full of the tension in a world that is shut down, but which expects productivity. This resulted in a deeper understanding of what kind of message the band wanted to present, and which stories they wanted to tell.  The indie dreamgaze band from Hamilton, Ontario have been playing together for more than six years. Their co-leads Nim Agalawatte and Chrisy Hurn, have known each other for much longer. Their career started with a bang, being signed by the UK label fear of missing out on the strength of their 2016 break-out single, "Johnny Pt 2." They followed this up with three EPs in quick succession--an eponymous one in 2016, Agatha in 2017, and Wax and Digital in 2019. A full-length, Heavy Eyes, was released later that same year. This punishing schedule of releases was supported by concerts throughout Southern Ontario, the US, the UK, and Germany.  2020/1 was supposed to be the same--a new full length album, Embody, and touring dates to support it. The pandemic meant less touring, and different ways of being in the world. But, there was also reconsideration of who the band was. Nim talks about how they found themselves in the midst of creating an album under these strange circumstances. They planned on making the album last year. They waited, and worked out what to do, eventually changing what they wrote. "The world was shifting around us — and there was some global trauma — with that, we decided we wanted to fully express ourselves.…We realized that to be who we are fully and authentically, we needed to share our voice." That voice includes making explicitly public identities that were previously private.  Coming out in the middle of pandemic means that embodiment has to take new forms, and this album is one of those ways forward. This record, with its complex sonic landscapes, sometimes lush and sometimes stark, is of a piece with their earlier work, but it's deeper and more self-aware. Embody is the sound of freedom, especially in the midst of such pain, both locally and globally. Trading tracks virtually, rehearsing online, and the isolation of that means that the album is full of hopeful waiting — to tour, of course, but also to engage these new understandings in the physical world. 
Instagram | Facebook | Twitter | TikTok | Spotify | Apple Music
•
Hailing from Albany, NY, genre-blending dream pop/rock outfit Laveda set nostalgic and cinematic moods with a '90s-esque sound reminiscent of The Sundays and My Bloody Valentine. Unlike popular bands of the shoegaze revival movement, Laveda maintain polished pop vocal performances similar to artists such as Beach House and Billie Eilish. Founding members Ali and Jake first voiced the concerns of today's younger generation throughout their 2020 debut What Happens After, which drew a post-apocolyptic landscape through layers of colourful sound and ethereal melodies. Founding members Jake and Ali "explore the great yawning unknown. From the freedom and uncertainty that rests at your fingertips or the distant and possibly desolate future, they capture adolescent restlessness with big walls of sound and a dreamy melodious warble" writes Toronto based blog Ohestee. NYC's Look At My Records! calls Laveda "a young band with a fully realized voice and perspective, and What Happens After couldn't feel timelier." For their highly anticipated sophomore album A Place You Grew Up In (out Apr 14, 2023), vocalist/guitarist Ali Genevich and guitarist Jake Brooks spent summer of 2021 recording in Los Angeles with producer Dylan Herman (Beck, Pynkie). The record is due April 14, 2023 on NY/VT based label Paper Cup and features the full live band with Dan Carr on bass and Joe Taurone on drums.
Instagram | Facebook | Twitter | TikTok | Spotify | Apple Music
About the organizer
Sonic Unyon is a Canadian indie record label, festival promoter, venue operator, and community partner in Hamilton, Ontario.