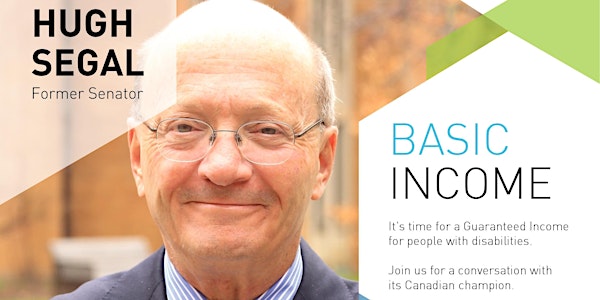 Basic Income ~ A Conversation with Hugh Segal
When and where
Location
The Roundhouse Theatre 181 Roundhouse Mews Vancouver, BC V6Z 2W3 Canada
Description
It's time for a Guaranteed Income for people with disabilities. Join us for a conversation with its Canadian champion -- Former Senator Hugh Segal.

Come at 6:30 pm for a Reception with light refreshments, then join the conversation from 7:00 pm - 9:00 pm.

Musical guests, m'girl — an ensemble of indigenous women — will start the evening by singing and drumming in celebration of life, love and harmony. Hugh Segal will then speak, followed by a Panel Discussion moderated by CBC Radio Host Michelle Eliot.

FREE ADMISSION. Everyone is welcome.

"We want a country without poverty, where everyone belongs and where everyone is valued. We also want to replenish souls. We believe Basic Income will do that."
- Al Etmanski, Plan Institute

Presented by:
BACI, Plan Institute, BCANDS, Disability Alliance BC, InclusionBC, Vancity