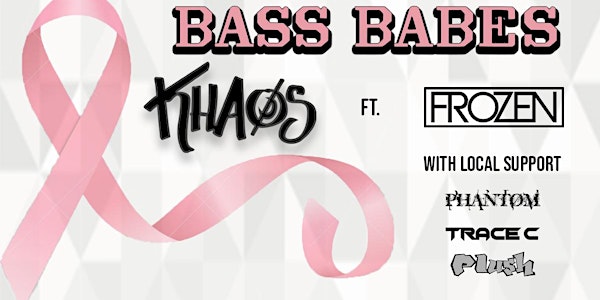 Bass Babes w/ Khaøs ft. Frozen
For the first time in the Ottawa scene we've curated a lineup of all female DJs to keep the bass playing all night long.
When and where
Location
221 Rideau St 221 Rideau Street Ottawa, ON K1N 9M2 Canada
Refund Policy
Refunds up to 7 days before event
About this event
From Bass House, to Drum N' Bass and Dubstep you won't be disappointed by the selection of music playing from start to finish.
The night will not only be a night of great music but also of giving. $3 from every ticket sold will be donated to breast cancer research, so you can party knowing you've helped a good cause.
Come out and dance the night away while also giving back and supporting the talented females in the EDM scene.
♪♀♪ KHAØS ♪♀♪
Ruslana Malytska, better known by her stage name KHAØS is an Ottawa based DJ/ Producer who has proven herself to be one of the premier talents out of Canada's capital. She has already graced some of the biggest stages in Canada including Escapade Music Festival, Ever After Music Festival, Villa Paradizo, Life In Color, Beachclub and more. Known for her electric stage presence and diverse song selection, KHAØS is primed to stake her claim in the emerging world of electronic music
♪♀♪ Frozen ♪♀♪
There are no limits for DJ Frozen (Alexa Gendron); Montreal's icon of bass music has risen to the top of the game, securing a booking at Montreal's major ILESONIQ festival (Evenko.ca) cements her place as one of the most influential and successful DJs of her generation. Already touring in Los Angeles, Philadelphia and Pittsburgh, Alexa is bringing Montreal's bass music style across North America. Backed by an army of fans and adorers, Frozen delivers unparalleled performances packed with unmatched energy, action and ability on stage.
♪♀♪ PHANTØM ♪♀♪
PHANTØM is breaking into the Ottawa scene with her mix of new and old dubstep and riddim. With a love of wonky and grimey dubstep, her sets are sure to have you on your feet and dancing the whole time. Her style mixes older classics with new releases, so there's something for everyone to enjoy.
♪♀♪ Trace C ♪♀♪
Trace C first fell in love with Drum & Bass and Rave Culture at the age of 16. She immediately took interest in DJing. She loves many styles/sub genres of DNB but has a weak spot for Dark Rollers and Liquid tracks with a Piano riff or Jazzy feel. She feels motivated to push Drum & Bass /Jungle music in Ottawa and is also part of the Ottawa Crew Capital Jungle.
♪♀♪ Plush ♪♀♪
A staple in Ottawa's underground dance music community, Plush has a signature sound that blends bass house with G-house, future house and UK garage. With a deep catalog of standout tunes, her stylistic versatility has enabled her to be heard on countless dance floors in major cities across Canada and the US. Her influences are many, providing her with an arsenal of bass that will make your booty shake from sundown to sunrise. You know a party is hot when Plush gets behind the decks and the crowd tears up the dance floor.
-- ENTRY --
Tier 1: $20
Tier 2: $25
Tier 3: $30
Door: $30
$3 from every ticket sold is going to Breast Cancer research
-- LINEUP --
9:00 - 10:00: Plush
10:00 - 11:00: Trace C
11:00 - 12:00: PHANTØM
12:00 - 1:00: KHAØS
1:00 - 2:00: Frozen