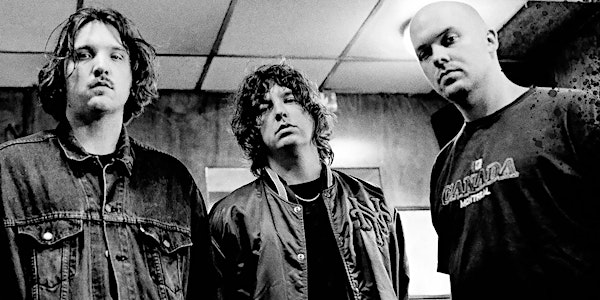 Bass Drum of Death
Ages 19+
Sonic Unyon Presents
Bass Drum of Death with guests Dearly Beloved and Basement Revolver — Live at Bridgeworks!
Date and time
Starts on Sunday, June 11 · 8pm EDT.
Location
Bridgeworks 200 Caroline St. N. (off Barton St. W.) Hamilton, ON L8R 0A6 Canada
Performers
Headliners
More Performers
Dearly Beloved
Basement Revolver
About this event
3 hours 55 minutes

Ages 19+

Mobile eTicket
The point of an odyssey is to return home changed—still the same person, but deepened somehow, wiser and better, wearing your traveling scars proudly. Bass Drum of Death's new album Say I Won't is the end result of a journey that took singer and bandleader John Barrett from a small town in Mississippi and sent him across the world and back home again. The music still rips, with blown-out guitars and drums that sound like bombs going off, and the melodies are catchier than ever, hollered in Barrett's trademark yelp. But the music hits differently now, more at peace with itself, propelled by a new swagger. Say I Won't is the record of a veteran band finding its stride and leaning into it, stripping back the excess and finding the raw core of their sound.
Instagram | Facebook | Twitter | Spotify | Apple Music
•
For the past 16 years, Dearly Beloved's collision and fusion of pop and hardcore sensibilities, melody and menace, has offered up unabashed stoner rock coiled like smoke around a magma core of psychedelic post-grunge. New album Walker Park anchors itself in lessons learned and launches the band on an exciting new trajectory. A sweaty, noisy mix of rock n' roll, hardcore, punk, prog, psych, and sludge influences, Dearly Beloved lives to make records and tour. The band has racked up an impressive resumé as road dogs, supporting artists like Swervedrive, Juliette Lewis and the Licks and Sloan on national tours of Canada, the U.S. and UK, while collaborating with riff wizards like Dave Catching (Queens of the Stone Age), Chris Gross (Masters of Reality), Patrick Pentland (Sloan), Dave Elitch (The Mars Volta), Dimitri Coates (OFF!, Burning Brides), and Care Failure (Die Mannequin). With extensive global dates in the works for 2023, Dearly Beloved's rock-solid rep is sure to stand tall in the spotlight with the release of Walker Park.
Instagram | Facebook | Twitter | Spotify | Apple Music
•
Instagram | Facebook | Twitter | Spotify | Apple Music
About the organizer
Sonic Unyon is a Canadian indie record label, festival promoter, venue operator, and community partner in Hamilton, Ontario.