Bats support farms by providing insect control and fertilizer, but how can farms support bats? And how can you get funding to help?
About this event
Susan Holroyd, Calgary Regional Coordinator for the Alberta Community Bat Program will share with us an overview of Alberta's bat species, the habitat they need, share some interesting facts, and help us understand how bats and farms support each other.
Once you're batty for bats, you might be wondering how you can support bat populations on your farm or ranch. Christine Campbell, Senior Western Hub Manager for ALUS Canada will talk about on-farm projects that build and enhance bat habitat and explain how the ALUS program can provide financial and technical support to farmers and ranchers who want to support bats.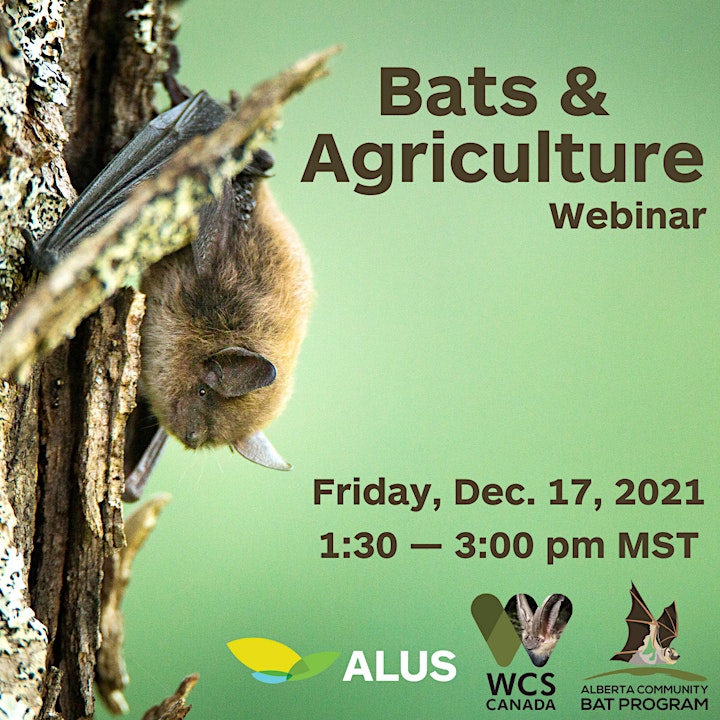 Organizer of Bats & Agriculture Webinar, Presented by ALUS & AB Community Bat Program
ALUS Canada, A Weston Family Initiative, is a national program dedicated to supporting farmers and ranchers who produce cleaner air, cleaner water, more biodiversity and other ecosystem services in their communities. As a recent Alberta Emerald and Clean50 award winner—and ranked among the exclusive Clean16—ALUS Canada is a recognized leader in sustainability that is rapidly expanding: There are currently 21 ALUS communities in six provinces, with more than 15,500 projects, 700 participants and 18,000 acres enrolled in ALUS. With support from ALUS, farmers and ranchers establish wetlands, native prairie, pollinator habitat and other projects on select acres of their land, and manage these projects going forward. With support from growing numbers of sources, including New Acre Project, ALUS will continue to grow, creating a healthy landscape that sustains agriculture, wildlife and natural spaces for all Canadians, one acre at a time!