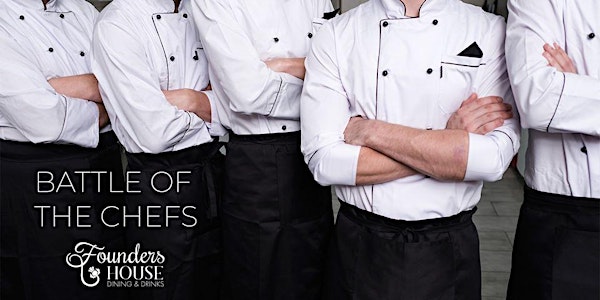 Battle of the Chefs (FINAL CHECK OUT PRICE INCLUDES TAX AND GRATUITY)
Six Courses. Two Chefs. One Night. Who's the best? That's for you to decide!
About this event
Dine and make a Chef shine. You be the Judge on February 1st at Founders House Dining & drinks.
Want to join our judging panel? Six Courses. Two Chefs. One Night. Who's the best? That's for you to decide! Have a seat at our table on February 1st, 2019 as Chef Chris Pyne and Chef Jason Lynch battle it out by presenting you with a course by mouth-watering course experience.
Each Chef will design three of the six course tasting menu in an attempt to become the champ. Defending his home turf is Chef Chris Pyne who focuses on showcasing locally grown products using Canadian cooking techniques.
Chef Jason joins us from Wolfville where he heads the kitchen at Le Caveau as their Executive Chef & Owner, born and raised in the Annapolis Valley Jason is at the forefront of the local food movement.
While enjoying each course, you will be given a score card. Here you will rate each dish, without knowing who designed and prepared any of the plates. At the end of the night we'll do some quick math an announce the Chef Champ of our first Battle of the Chefs.
This event will sell out fast! Book early.
Price per person: $98 plus tax and gratuity.
Need some help booking your ticket? Please give us a call at 902.532.0333 and we would happily book your ticket for this unique and fun event over the phone.
Organizer of Battle of the Chefs (FINAL CHECK OUT PRICE INCLUDES TAX AND GRATUITY)