About this Event
The Details
Battlesnake is hosting Victoria 2020 Live on March 15, at the Victoria Conference Centre. Over $10,000 in prizes to be won!
What is it?
Battlesnake Victoria 2020 is a one-day programming competition where participants write software to compete in Battlesnake, a multiplayer version of the classic arcade game Snake. Now in our sixth year, Battlesnake is the largest programming competition in BC, and is presented in partnership with AWS, GitHub, and Dyspatch.
Who is it for?
Battlesnake is for everyone. It's an exciting and educational competition that attracts developers of all skill levels, from novice to expert. But Battlesnake is for you even if you're not a developer — it's also for anyone interested in programming, anyone with kids interested in programming, and anyone looking to support the tech community.
Why should I attend?
Whether you're a seasoned programmer with years of experience, or a highschool student new to the game, Battlesnake is the perfect environment to hone your skills and learn new technologies. You'll be inspired by your fellow competitors to try new things and push yourself just a little further. You'll also have the chance to meet potential future employers. And even if you've never programmed before and aren't sure you ever want to learn, Battlesnake is really fun to watch!
How much does it cost?
Battlesnake is FREE for everyone but you must register in advance. Coffee, tea, lunch, and snacks will be provided for all registrants.
New for 2020!
This year's Battlesnake will feature an exciting new game mode. Details will be announced LIVE, on the morning of the event, so show up on time!
Also new this year, we're testing an International Division for Battlesnake developers who are unable to attend in person and who want to participate remotely. Space is limited, so be sure to apply early.
Looking for help getting started?
Our Mission
Battlesnake is making programming fun and accessible to everyone. We run live Battlesnake events and online streams, and are focused on building a large, exciting developer community around the world. We want to make programming collaborative, inclusive, and above all, fun for everyone.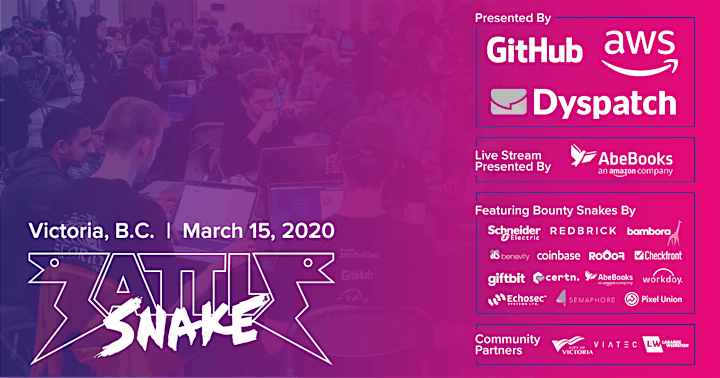 T-Shirt Designs