BBPA's Community Space Financial Literacy Program
In the first class (May 15) Irene will discuss the power of markets, incentives, and government.
About this event
The Ultimate Financial Literacy Program for Black Youth.
OVERVIEW
BBPA's Community Space is an online financial literacy/personal development program
FINANCIAL LITERACY OBJECTIVES
To provide the tools for Black youth to be better prepared socioeconomically (the application of social skills and integration of financial literacy)
To ensure that Black youth have a better sense of how to sustain a regiment that will allow them to build wealth while also maintaining a healthy trajectory of personal development.
To increase understanding between the affiliation of how Life Skills can increase the probability of financial well being
Character development and leadership skills in all aspects of learning, personal and professional development
Engaging participants in interactive learning and capacity building through appealing content nestled in the appeal of Pop Culture
Leaving participants with practical transferable life and professional skill sets that will render them competitive on the open marketplace and in any number of industries and interests.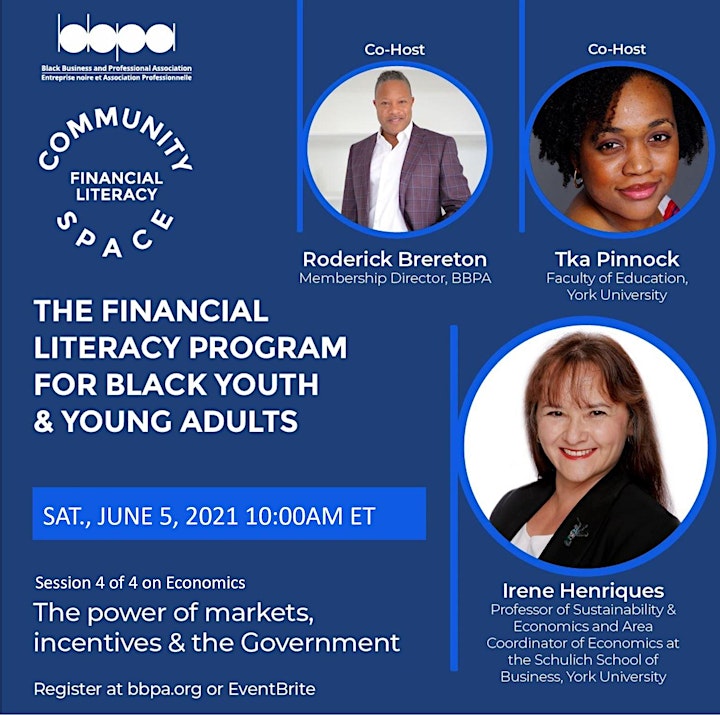 Irene Henriques is a Professor of Sustainability and Economics and Area Coordinator of Economics at the Schulich School of Business, York University in Toronto, and former Co-Editor of Business & Society. She is an Affiliate Research Scholar for the Rutgers Institute for Corporate Social Innovation (RICSI).
Her research interests span economics, stakeholder management and sustainability. She has published numerous articles in leading economic and management journals including the American Economic Review, Academy of Management Journal, Strategic Management Journal and Journal of Management Studies.
Irene has served as Chair of the Organizations and the Natural Environment Division of the Academy of Management and the Strategy Division of Administrative Sciences Association of Canada. She has also served as Chair of the Joint Public Advisory Committee to the US, Canadian and Mexican Environment Ministers under NAFTA (the Commission for Environmental Cooperation).
Organizer of BBPA's Community Space Financial Literacy Program