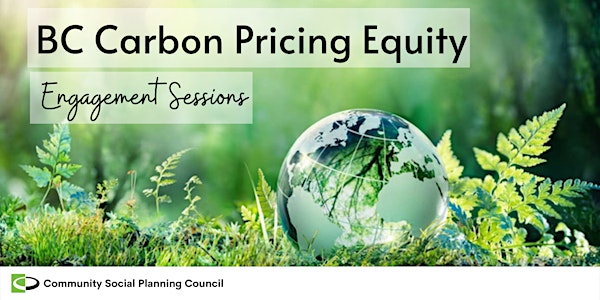 B.C. Carbon Pricing Equity Engagement Sessions: Diversity Organizations
In these facilitated engagement sessions participants will explore equity aspects of B.C.'s provincial carbon tax and associated programs.
About this event
This community engagement session on the equity aspects of B.C.'s provincial carbon tax and associated programs is for organizations that serve of diverse and equity-seeking communities across the province. This may include: Indigenous people, racialized people, LGBTQ2S+ community members, people with diverse abilities, women, immigrants and newcomers, and others that are a part of communities that are historically underserved.
The Community Social Planning Committee of Greater Victoria, as part of our commitment to climate equity, is supporting B.C.'s Carbon Pricing Review by facilitating engagement sessions with organizational and community representatives of equity-seeking groups. These engagement sessions aim to:
To provide an update on the changes to provincial carbon pricing set in motion by the federal government minimum required carbon price for all provinces and territories in Canada and BC's commitment to meet or exceed the federal carbon price.
Share information on B.C.'s carbon pricing policies and programs, and
To generate feedback from equity-seeking groups on:
The differing impact of the carbon tax for diverse community members
How different groups could be supported equitably
Best practices for implementation and reducing barriers to access
Feedback from engagements sessions will inform the provincial government's review of B.C.'s carbon tax and associated programs, which aims to understand impacts on affordability for households and businesses.
We will be holding separate engagement sessions for organizations that serve diverse populations and community members from equity groups.
Capacity Funding will be provided to support low-income individuals and organizations with low capacity where it helps reduce barriers to participation. The option will be available at registration.
All session dates and times are listed below.
B.C. Carbon Pricing Equity Engagement Sessions: Organizations Serving Low-Income Residents
May 16th, 2022 | 12:00-1:30pm
B.C. Carbon Pricing Equity Engagement Sessions: Low-Income Residents
May 16th, 2022 | 5:00-6:30pm
B.C. Carbon Pricing Equity Engagement Sessions: Organizations Serving Diverse Groups
May 17th, 2022 | 12:00-1:30pm
B.C. Carbon Pricing Equity Engagement Sessions: Rural and Remote Communities
May 18th, 2022 | 6:30-8:00pm
B.C. Carbon Pricing Equity Engagement Sessions: Diverse Groups
May 24th, 2022 | 5:00-6:30pm
B.C. Carbon Pricing Equity Engagement Sessions: Low- and Middle-Income Families
May 26th, 2022 | 5:00-6:30pm