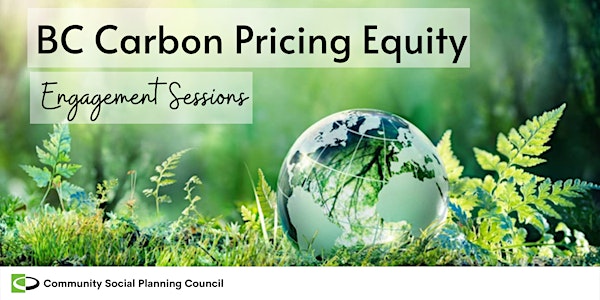 B.C. Carbon Pricing Equity Engagement Sessions: Rural & Remote Communities
In these facilitated engagement sessions participants will explore equity aspects of B.C.'s provincial carbon tax and associated programs.
About this event
Do you live in a rural or remote community? Is your experience of climate change and the carbon tax different than people living in urban settings? The BC government wants to hear from you!
Join this virtual engagement session on zoom May 18th 6:30-8:00pm to share your perspective on the BC Carbon Tax and affordability for equity-seeking groups and rural and remote communities across the province.
Capacity Funding of $32 per 1.5 hour session is available for low-income individuals, please opt-in at registration.
These B.C.-wide virtual community engagement sessions on the equity aspects of B.C.'s provincial carbon tax and associated programs aim to engage diverse community members across the province. There is a limited number of spaces available in each session so please register if you are interested.
The Community Social Planning Council of Greater Victoria is supporting B.C.'s Carbon Pricing Review with community sessions for equity-seeking groups. These sessions will be an opportunity to:
1. Get an update on the federal government's minimum carbon price for all provinces and territories and BC's plans to meet or exceed that.
2. Information on provincial carbon pricing, and
3. An opportunity to explore:
• The different impacts of the carbon tax for diverse community members, especially those with low incomes
• How carbon tax programs can be designed to help address fairness and affordability
• What are some of the challenges that need to be looked at and how can we make carbon tax programs more accessible?
Feedback from engagements sessions will inform the provincial government's review of the carbon tax, which aims to understand impacts of carbon pricing on affordability for households and businesses.
Sessions will take place over Zoom.