BC Council of Garden Clubs Fall 2019 General Meeting

Saturday, 26 October 2019 from 9:00 AM to 3:30 PM (PDT)
Event Details
GET ROOTED!
A new venue for our fall meeting!
We are excited to announce that our fall meeting will be held in a "new to us" venue. The Bonsor Community Centre, across the street from the Firefighters Banquet Hall where we have met for a number of years, will be the location of our October 26, 2019 meeting. In addition to providing space for breakout workshops, this space will accommodate more vendors and a larger number of floral displays. It also has its own large parking lot.
Our morning session will feature an update from the BC Invasive Species Council and a selection of four workshops aimed at developing your membership, increasing attendance to your events, and exploring new avenues of communication to gardeners in your community. These workshops will be structured to help you gain useful skills that you can bring back to your individual gardening organization. They run twice so that you can attend more than one workshop. In the afternoon, we will have our featured speaker, Dr. Richard Hebda speaking about climate change and its implications for gardeners.
Throughout the day you will have several opportunities to meet fellow gardening enthusiasts and exchange information and ideas. We are excited to include new eco-friendly vendors. A list will be sent out closer to the meeting date. Bring cash or your cheque book as these vendors promise to be of real interest to gardeners!
We request that each club bring something for the door prize table. These prizes are always interesting and will be given out throughout the day, so purchase your tickets early and keep your ears open (we might just call your number!).
For this meeting, we are trying something new. While lunch and refreshments will be provided, we would like you to lug a mug and pack a sack (with cutlery, a plate, soup bowl, and napkin). Think green! Go eco! We are putting the challenge out there to you: How fancy will your place setting be? (Hint: There might be a prize for best place setting).
Nominate one of your club's attendees to be your club's delegate to vote, in the event that there is a vote taken during the meeting. Any motion or voting issue will be emailed to you in an e-bulletin (make sure that you provide us with the best contact email address for receiving updates).
MAIN SPEAKER
Dr. Richard Hebda
Curator of Botany and Earth History (Emeritus), Royal BC Museum
Climate Change Impacts and Actions Gardeners Can Take
Dr. Hebda will inform us about actions that we can take in the garden to help mitigate the impact of climate change in our region. If there is time, he will also speak about irises--and bearded irises in particular, which are drought-adapted. Dr. Hebda is currently the president of the BC Iris Society. Read more about Dr. Hebda.
GUEST SPEAKER
Dr. Nicholas Wong, RPBio, Invasive Species Council of British Columbia
Nicholas will give us an update on the Japanese Beetle infestation in his brief talk, The Japanese Beetle, Popilla japonica, in Vancouver.
WORKSHOPS
We will have two 1-hour workshop sessions where you will be able to have hands-on learning opportunities that will help you grow your membership and gain exposure for your events through social media, including the new BCCGC website. You will be able to go to two of the four workshops.

Using Online Sources to Your Club's Advantage

 

Learn how to use our new calendar program to list all of your events; update your delegate information; find speakers for your meetings; and effectively use social media like Facebook and Instagram to reach current and potential members! You are welcome to bring specific questions and examples of the challenges you encountered.




Linda Stanley Wilson, Ph.D., BCCGC Webmaster

Club Revitalization 

Following the principles of attracting and keeping your customers, this workshop will show you strategies to grow your membership and raise your profile in your community. 




Lynda Pasacreta, BCCGC Communications Team

The Nuts & Bolts of Club Organization 

Does your club have a constitution? Are you comfortable with your club's financial statements? Do you have effective job descriptions for your club executive members? What questions do have about club organization. Lorna not only has been the BCCGC president but is the Past President of the South Surrey Garden Club and is their current Treasurer. She is excited to share her knowledge!




Lorna Fraser, CPA,CA, BCCGC Past President

Growing in a City: How Urban Agriculture Can Transform the Way We See Our Neighbourhoods

 

W

hen was the last time you were walking through the city on a dreary winter morning, feeling less than inspired by the endless shades of grey,

 

when you noticed a flower growing 

out of a crack in the pavement? Or maybe a bundle of bright red tomatoes growing on a greenhouse balcony nearby? Chances are it probably didn't change your life--but I bet it made you feel just a little bit better. The change might be small at first, but urban agriculture has not only the potential to feed us, but over time it can also transform the way we see our city and our own connection to it as well. Find out more in this interactive workshop.




Holly Dumbarton, Project Manager, Food Eco District, Victoria
We encourage each club to send at least two representatives so that your club will be able to participate in all of the break-out workshops. More details about each of the workshops will be included in the September BCCGC Bulletin.
FLORAL DESIGN EXHIBITS--Dreaming of England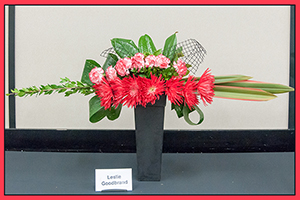 There will be a Floral Design Show. The show will include Novice Class 1 and Class 2, and Open for Classes 3-10. Floral Design Judge: Lynne White; Design Show Chair: Cindy Tataryn.
For Floral Designers: Registration to participate as a designer is open to the public. There is no entry fee to register your exhibit. Floral Design exhibits must be registered in advance no later than Saturday, October 19, 2019. For more information, download the Floral Design Show Schedule.
Contact Cindy Tataryn at ctataryn@telus.net, phone 604-585-6786.
REGISTER NOW FOR THE SATURDAY, OCTOBER 26th GENERAL MEETING
Doors will open at 8:00 am and the meeting will start at 9 am. We expect to be wrapping up by 3:30 pm. Get the word out to your gardener friends and bring them along as well to mingle and pick up some new gardening information. It promises to be a great day. Please include a monitored email address so that we can get in touch with all attendees before and after the event (preferably an email address for each attendee from your group).
A limited number of tickets will be available at the door for $50. Please see the ticket section for more details.
Save This Event
When & Where

Bonsor Recreation Complex
6550 Bonsor Avenue
Banquet Room, Second Floor
Burnaby, BC V5H 3G4
Canada

Saturday, 26 October 2019 from 9:00 AM to 3:30 PM (PDT)
Add to my calendar
Organizer
The BC Council of Garden Clubs represents garden clubs, allotment, and community gardens in British Columbia.
The Council hosts an Annual General Meeting in March and a General Meeting in October. This provides an opportunity for member clubs to meet and exchange information, renew acquaintances, and listen to great speakers on a number of topics relating to horticulture. Additional highlights include floral displays and new vendors (be sure to bring cash and/or credit!)