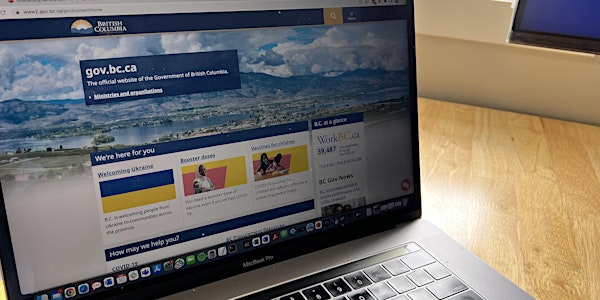 BC Gov Design Community Monthly Meetup: August 2022
Learn more about gov.bc.ca
About this event
The BC Gov Design Community (formerly HCD community but now with 50% less acronyms) is a place to share ideas and learn from each other about how to put real people at the centre of our work.
In 2022, we're running meetups on the last Thursday of each month to share work, discuss design methods, and talk about relevant design topics.
Who: This is open to anyone who is working in or has an interest in Human Centred Design (particularly service design, UX design and design research)
Where: Online – you'll be able to see the teams link once you sign up.
Agenda: In August, we'll hear from Ali Emery, product owner for gov.bc.ca, about the work her team is doing on the province's main website.
The case study will be followed with a Q&A session, as well as some optional breakout rooms, giving you the chance to meet others and discuss design challenges.
If you have any questions or comments, please email hcd.community@gov.bc.ca. If you'd like to be added to our mailing list, you can sign up here.