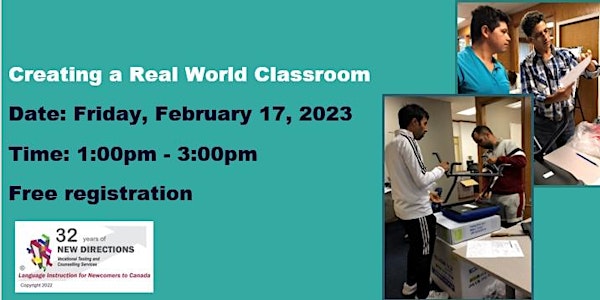 BC TEAL LINC Lounge Presentation
Creating a Real World Classroom
About this event
From the perspective of decolonization, Janice brings her experience with the Open Learning Centre to create a Real World Classroom to break down barriers and encourage all learners to participate in learning within a practical workplace environment.
Presenters: Janice Campbell and Mike Chrzanecki
Janice has been teaching ESL for 18 years and has taught ELSA/LINC since 2013 at New Directions. She has taught classes at a variety of levels from LINC 1 to LINC 8 and recently she was teaching Stage 2 Language Instruction at the Open Learning Centre. Her classes are vibrant and full of relevance to today's world and labour market.
Mike Chrzanecki has been teaching at New Directions since 2019. He began teaching at the OLC and has since brought his experience into the traditional LINC classroom. He has wholeheartedly enjoyed teaching both at the OLC and LINC. He hopes to continue helping newcomers in Canada with their English for many years to come.