About this Event
Commercial fleet vehicles such as medium and heavy-duty trucks and buses account for more than one third of B.C.'s transportation related GHG emissions. Zero emission vehicles play a central role in B.C.'s climate change solution, and we are pleased to invite you to explore the challenges, barriers and solutions to electric vehicle adoption in fleets with us.
This year's symposium will welcome over 200 decision makers, analysts, managers, experts and policy leaders from industry, government, NGOs and academic institutions. Last year's symposium was a resounding success, and the most common ask was to bring it back.
See the full agenda here.
Keynote Speakers
Charlotte Argue - Senior Manager, Fleet Electrification, Geotab
Jason Scultety - Key Account Manager, Fleet Electrification, BC Hydro
Success Stories from Fleets
Rob Rothwell - Manager, Fleet Operations, Vancouver Police Department
Phillip Saunders - Green Fleet Program Manager, City of Seattle
Amanda Chow - Vancouver Airport Authority
Monica Samuda - District of North Vancouver
Supplier and Buyer Coordination
Alexander Voets - Sales and Marketing Manager, Commercial Electric Fleets, Daimler Trucks North America
Fraser Atkinson - CEO and Chairman, Green Power Motor Company
Yves Provencher – Senior Manager, Business Development, The Lion Electric Co.
Larry Smith - Director of Fleet Operations, Mitubishi Fuso Trucks of America
Infrastructure and Charging Solutions
David Breault - Senior Marketing Specialist, Fleet Solutions, ChargePoint
Catharine Reid - Senior Marketer, Ballard Power Systems
Amy Sidwell - Manager of Fleet and Manufacturing Services, City of Vancouver
Electrifying the Service Sector
Robert Safrata - CEO, West Coast Sight Seeing
Kevin Belanger - Owner and Founder, Tesla Tours
Dom Repta - Senior Sustainability Advisor, Translink
David Hollingworth - Environment and Climate Change Committee, Ambulance Paramedics of BC
Policy Options for Fleet Electrification
Suzanne Goldberg - Director of Public Policy, ChargePoint
Jeff Grant - Principal and Co-Founder, Zen Clean Energy Solutions
Aditya Ramesh - CUTRIC
This event is made possible with support from our sponsors and from the province of British Columbia.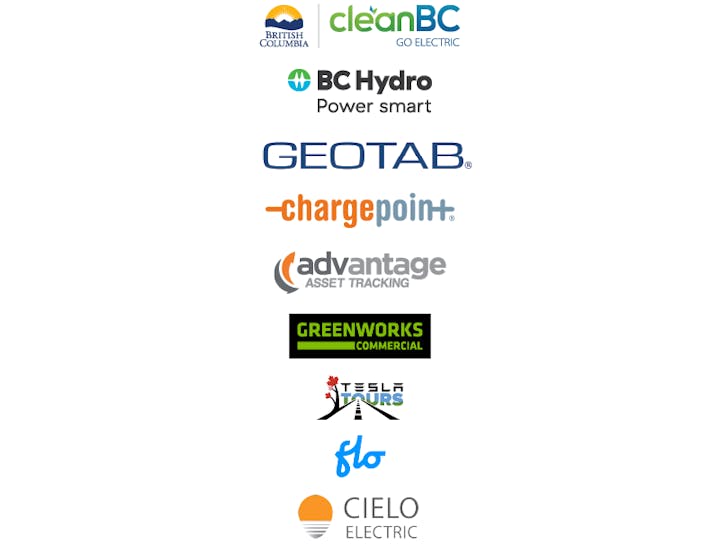 Contacts
Questions? Contact Pete Thimmaiah, Program Lead, Plug In BC: pthimmaiah@pluginbc.ca
Vehicle Display: If you want to display your vehicle, contact Neil MacEachern, Sustainable Transportation Program Manager, Plug In BC: nmaceachern@pluginbc.ca
Booth Space and Sponsorship: Spaces for display booths are still available. For more information, contact Mary Barrientos: mbarrientos@fraserbasin.bc.ca
River Rock Casino Resort: Book your room here.